REGULATED WOMEN AND MANIPULATIVE LANGUAGE USE IN AFRICAN PROVERBS
A CRITICAL DISCOURSE ANALYSIS PERSPECTIVE
Abstract
This paper analyses African proverbs but with particular focus on Igbo proverbs as a discourse form. It investigates dominance relations using the discourse form of proverbs. Generally, legends, folktales, proverbs, literature etc provide major modes of entrenching order, control and dominance in the culture of a people. It analyzes the dynamics of Igbo proverbs in communication to determine womens position in the Igbo society. In other words, what role(s) do the Igbo proverbs play in the distribution of social goods vis-vis status, solidarity, power and dominance? Samples of Igbo proverbs were randomly collected from individuals and published literature texts. This variety of proverbs relating to women deals with marriage/family/male-female relationships. The theoretical framework derives from critical discourse (CDA) approach to establish dominance relations in the Igbo proverbs as well as in the practical use of the proverbs in social discourses. It can be established that there are elements of oppression and male dominance in
some Igbo proverbs that relate to women. Such proverbs tend to violate the rights of women and trample upon the dignity of women; they are
indicators of discrimination against women in the Igbo culture. Findings from this study can go a long way in making useful contributions towards
the elusive quest for gender balance in the society. The paper underscores the pernicious effects of the oppression of women through proverbs and the struggle for gender balance. It therefore recommends a change in the way the society views women to check the undue regulation of women and free the female populace from predetermined manipulation fostered through language use, especially proverbs.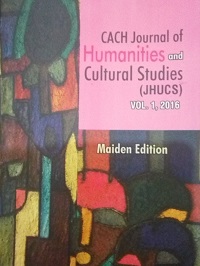 Downloads