MORALITY AND VIDEO FILM IN A GLOBALIZED SOCIETY
THE NIGERIAN EXAMPLE
Abstract
Video film is one of the most potent art forms for entertainment and pedagogy. Being an audio-visual medium of socialization, it has the capacity for shaping the shared views, opinions, attitudes, beliefs and values of a particular human society. Thus, the arbitrary consolidation of disparate cultures into one whole the global culture portends danger to the moral codes of any society. Employing the qualitative analysis methodology, this study
assesses the moral compass of Nollywood video films, using Hunted Wealth as a case in point. The focus is on filmmakers recent obsession with quasi-pornographic themes, marked by obscenities and debauchery. The study traces this thematic shift to the gradual collapse of cultural boundaries and utter violation of the Nigerian Film and Video Censors Board Enabling Law. Tise situation has occasioned the escalation of profanity in Nollywood
video films and, by extension, the Nigerian society. Consequently, the paper argues for a moderation in the acquisition of alien cultures as well as the need to censor video films before they are made available for public consumption. The intention is not to suppress immoral conducts in the Nigerian society but to portray them with the mindset of condemnation.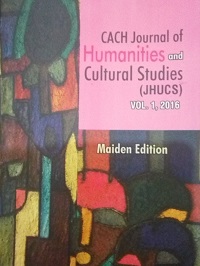 Downloads