FILM AS AN AGENT OF HUMAN RIGHTS ADVANCEMENT IN NIGERIA
A STUDY OF CHARLES OFFOR'S BLOODY NIGHT AND KWAME BOADU & FRANK RAJAH ARASE'S SOMEWHERE IN AFRICA
Abstract
Human rights are those inalienable rights that are basically accruable to every human person or citizen of a country. In Nigeria, human rights situation is still a matter of concern as the nation goes on pursuing her democratisation objectives. Against the background of a vibrant and popular film industry in Nigeria, this study, therefore, investigates the role films could play towards human rights advancement in Nigeria. with particular reference to
two films with human rights-related themes; Charles Offor's Bloody Night and Kwame Boadu & Frank Rajah Arase's Somewhere in Africa. The study was qualitative in approach combining both textual analysis and focus group discussion (FGD). The films under study were subjected to textual analysis
while two FGD sessions were conducted among randomly selected students of Nnamdi Azikiwe University, Awka, Nigeria - six discussants for each session. The data from the textual analysis and FGD were separately analysed. Findings showed that the two films were able to project the systemic inadequacies of human rights culture in Nigeria and offered an ideological alternative, and that the audience understood the film's message in the context of the quest for human rights realisation in Nigeria; they were able to relate the situations portrayed in the films to their own real life
situations as Nigerians.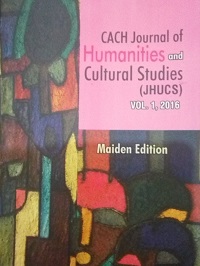 Downloads