A Descriptive Analysis of Antonymy in the Igbo Language
Abstract
Antonymy is a lexical sense relation that focuses on opposite in meaning of lexical items. Antonymy is a phenomenon of Universal Grammar because it is obvious in all natural languages. Different scholars have embarked on research on antonymy in different languages but much has not been done on the Igbo language, hence, this research work. This study is poised to highlight the concept of antonymy and its different kinds, then, investigate the
existence of the concept in the Igbo language. Data were collected through unstructured observation of native speakers' natural speech events, and the descriptive method of data analysis was used in analyzing the data. The findings are that the Igbo language has different kinds of antonyms such as: gradable and nongradable antonyms, reverse and converse terms, then taxonomy sisters. In conclusion, it is obvious that antonymy manifests in the
Igbo language. The research work will benefit lexicographers, linguists and scholars.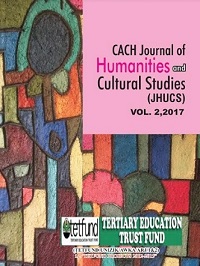 Downloads