Thespis or Ikhanetfet
An Argument for Africa Origins of Theatre Makeup and Costume
Abstract
Makeup and costume in Nigeria have been practiced from the traditional festival theatres, for as long as African villages have existed because theatre. The European-originated world view of theatre having its origin in 6th century B. C. Greece, appears to be a form of misinformation that leaves much room for contention, in view of more recent facts that suggest Egypt as the origin of theatre and Ikhanetfet as the first actor, rather than Thespis.
Arguing along this line, this study also opines that makeup was not first introduced by the theatre of ancient Rome. The methodology is primarily literature review. The findings strongly suggest that Ancient Egyptian theatre outdates Ancient Greek theatre by twenty thousand years and was more advanced in design and technical practices than the later theatre. The study suggests a need to research into the extent of distortions of ancient theatre history of Nigeria. It also argues for an urgent reversal of teaching the false European origins of theatre and finally advocates further scholarly
efforts to help the reposition Africa in world theatre history.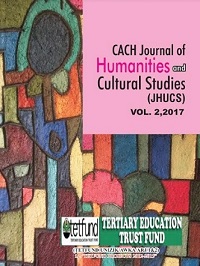 Downloads