STIMULUS OF INTERNATIONAL PUBLIC SECTOR ACCOUNTING STANDARDAND REPORTING QUALITY OF SELECTED PUBLIC OFFICES IN SOUTHEAST, NIGERIA
Keywords:
IPSAS, Transparency, Reliability, Credibility
Abstract
Purpose - This study examined the stimulus of international public sector accounting standard (IPSAS) and reporting qualities of selected federal offices in Anambra State. This study was prompted by the need to undertake an enquiry into the transparency and credibility of reporting entities as affected by IPSAS adoption among reporting entities in Anambra State. Three research hypotheses were formulated for the study. Design/Method/Approach - This study made use of the descriptive survey research design. Data were analysed using Mean Sample T-test with the aid of SPSS version 23. Findings - The study finds a positive significant association between IPSAS adoption and the reliability and reporting credibility of public entities in Anambra State. Research Limitations/Implication - The study was restricted to only qualitative information as public entities are under no statutory obligation to declare their financial statement or other quantitative information to the members of the public. Hence, the research results may lack generalizability. Therefore, future studies may attempt qualitative study on IPSAS and reporting entities. Practical implication - The paper has implications for Policy makers in determination of reporting credibility thereby helping them make informed decision as regards state budget. Originality/value – The paper is among the first to examine the IPSAS and reporting entities in Anambra State, Nigeria.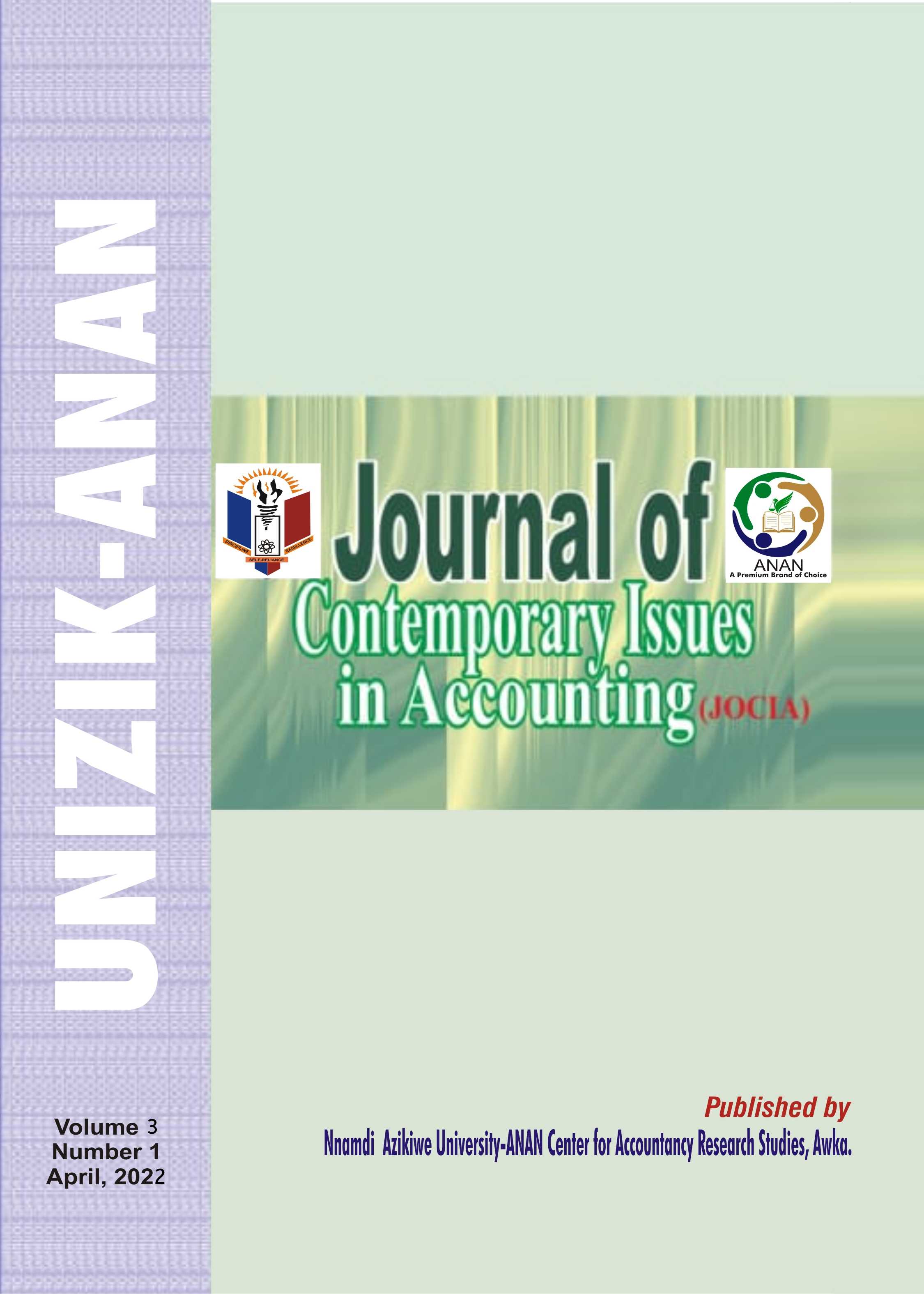 Downloads
How to Cite
Fabian, C. O., & Akaegbobi, T. N. (2022). STIMULUS OF INTERNATIONAL PUBLIC SECTOR ACCOUNTING STANDARDAND REPORTING QUALITY OF SELECTED PUBLIC OFFICES IN SOUTHEAST, NIGERIA. Journal of Contemporary Issues in Accounting, 3(1), 77–94. Retrieved from https://journals.unizik.edu.ng/index.php/jocia/article/view/1191