CORPORATE GOVERNANCE AND FIRM VALUE: IS POOR CORPORATE GOVERNANCE RESPONSIBLE FOR THE PERSISTENT CRISES IN NIGERIA BANKING SECTOR?
Keywords:
Corporate governance, Firm value, Dividends per share, Return on investment, Net Assets per shares
Abstract
This paper investigated the relationship between corporate governance and firm value of Nigerian banks using the quantitative research design. The study adopted a similar model used by Haat, et al. (2008) and Hamad, et al. (2021) to estimate the combined effects of corporate governance proxies (board size, board composition, firm ownership structure financial disclosure and transparency and composition of audit committee) on firm value measures (net assets per share, dividend per share and return on investments) of eight selected commercial banks. The data was collected from the published financial reports of the selected banks for the year 2010 to 2020. Data obtained was analysed using descriptive and inferential statistics (Ordinary Least SquaresOLS-regression) via the Statistical Package for Social Sciences. Findings indicated that corporate governance proxies have significant effect on the return on investment, dividend per share and net assets per share of the selected banks in Nigeria. The paper recommends that all the stakeholders involved in monitoring the institutionalization of an effective system of corporate governance in Nigeria banks should do more to ensure that bank directors adhere to good and transparent corporate governance to reverse the continuous trend of bank failures in Nigeria in order to enhance the value of the firm.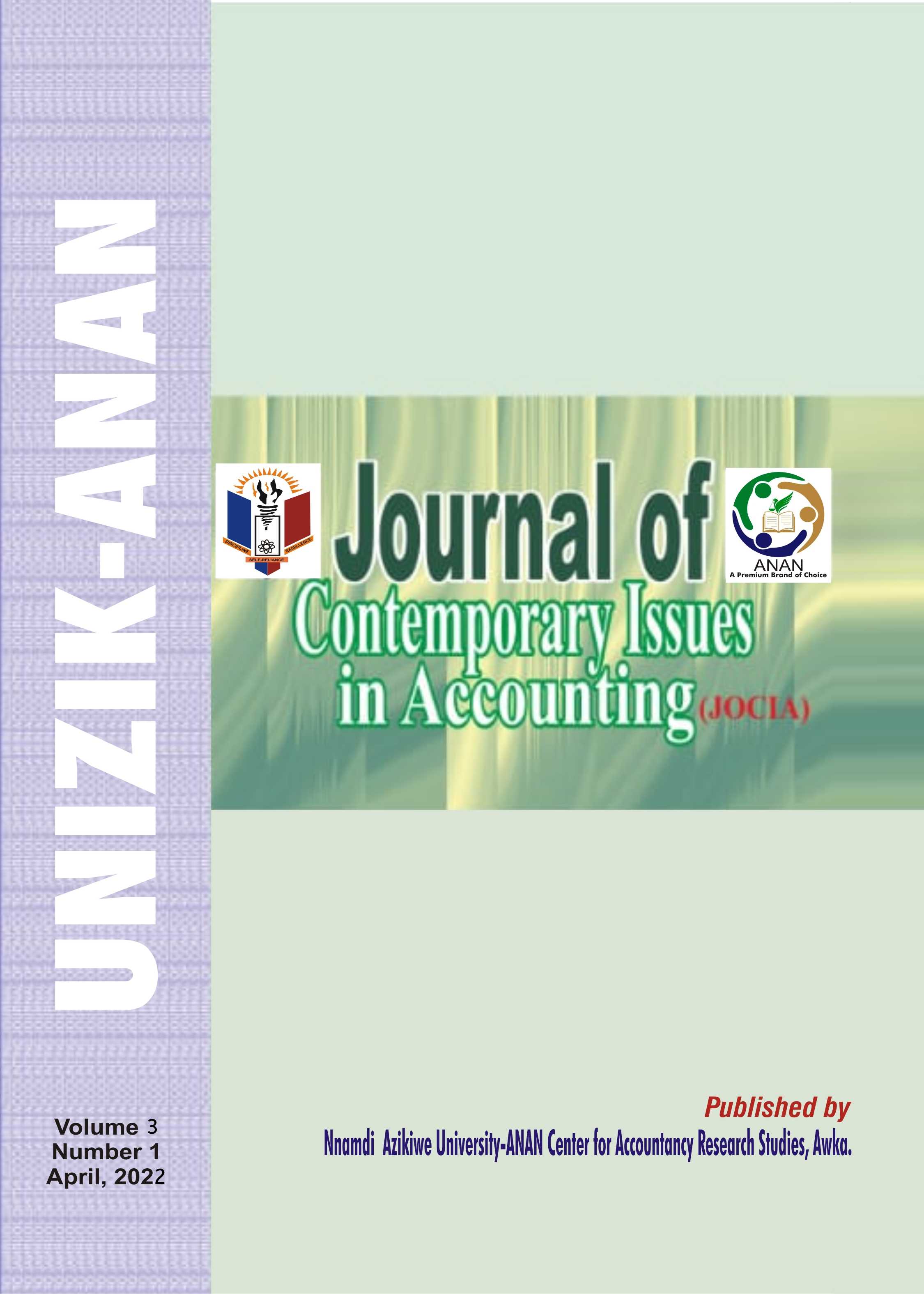 Downloads
How to Cite
Ejike, S. O., Habiba, M.-B. U., & Abdullahi, N. (2022). CORPORATE GOVERNANCE AND FIRM VALUE: IS POOR CORPORATE GOVERNANCE RESPONSIBLE FOR THE PERSISTENT CRISES IN NIGERIA BANKING SECTOR?. Journal of Contemporary Issues in Accounting, 3(1), 95–109. Retrieved from https://journals.unizik.edu.ng/index.php/jocia/article/view/1192