EFFECT OF ENVIRONMENTAL MANAGEMENT PRACTICES ON TECHNOLOGICAL INNOVATION PERFORMANCE OF MANUFACTURING COMPANIES IN NIGERIA
Keywords:
Environmental management practices, Technological Innovation, Firm Performance, Product Innovation, Process innovation
Abstract
This paper investigates the effect of environmental management practices on technological innovation on the performance of manufacturing firms in Nigeria which is crucial in both research and practice as a result of the impact of manufacturing firms' activities on the environment. We sampled some manufacturing industries in the south eastern region of Nigeria particularly in Anambra state. A number of empirical studies have attempted to examine the practice of environmental management practices in Nigeria following waste management, however some other have pointed out the impact of environmental management accounting on firm's performance Current studies on environmental management practices dwelt on the profitability performance of the organization. Thus, it is imperative to explore the mechanism of how environmental management practices promote technological innovation performance so as to encourage this kind of practice among manufacturing companies in Nigeria. The data collected were analyzed with the aid of ordinary least square regression techniques. Result revealed that environmental management practices had a significant effect on technological innovation performance in manufacturing companies. Therefore, manufacturing companies and policy makers should note that environmental management practices remain crucial in enhancing the technological innovation performance of any manufacturing firm.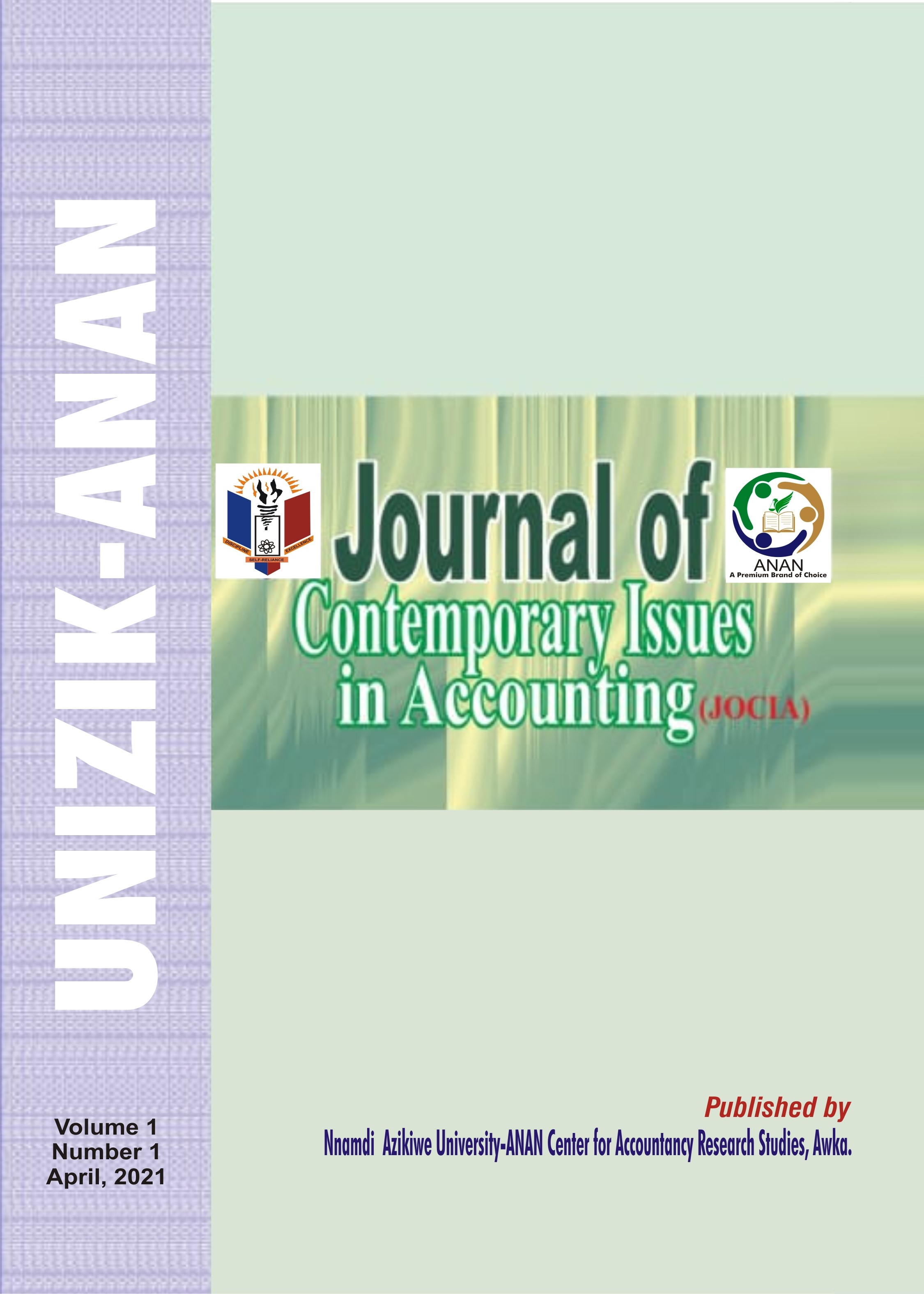 Downloads
How to Cite
Ogunmola, E. O., & Orajekwe, . J. (2021). EFFECT OF ENVIRONMENTAL MANAGEMENT PRACTICES ON TECHNOLOGICAL INNOVATION PERFORMANCE OF MANUFACTURING COMPANIES IN NIGERIA. Journal of Contemporary Issues in Accounting, 1(1), 1–11. Retrieved from https://journals.unizik.edu.ng/jocia/article/view/888