ELECTRONIC BANKING AND BANK PERFORMANCE IN NIGERIA: A CO-INTEGRATION AND ERROR CORRECTION MODEL APPROACH
Keywords:
Automated teller machine, Electronic banking, Internet banking, Point of sales, Return on assets
Abstract
This study examined the relationship between electronic banking and the performance of deposit money banks (DMBs) in Nigeria using ex-post facto research design. Quarterly timeseries data of mobile banking, automated teller machine, internet banking, point of sales and return on assets were obtained from the Central Bank of Nigeria Statistical bulletin during the period 2009-2019. Data obtained were analyzed using both descriptive (mean, standard deviation, and Pearson correlation) and inferential (unit roots, co-integration, error correction model, Jacque-Bera test and variance inflation factor test) statistical techniques. Findings revealed that mobile banking, automated teller machine and point of sales were statistically significant, suggesting that they are critical technological factors enhancing financial performance of banks. On the other hand, internet banking found to be statistically insignificant with financial performance of banks, implying that they are weak factor enhancing financial performance of banks in Nigeria. In effect, the study concludes that electronic banking has effect on deposit money banks financial performance in Nigeria. Based on the findings, it was recommended among others that banks should encourage their customers to key into their mobile banking ideology. Again, bank should be able to determine the technical background of the majority of its customers before endeavoring into the use of advanced technologies like mobile banking for their customers. Finally, deposits money banks should maintain steadily and encouraging mobile banking in their operations because the number of people with access to a mobile hand set is increasing every day.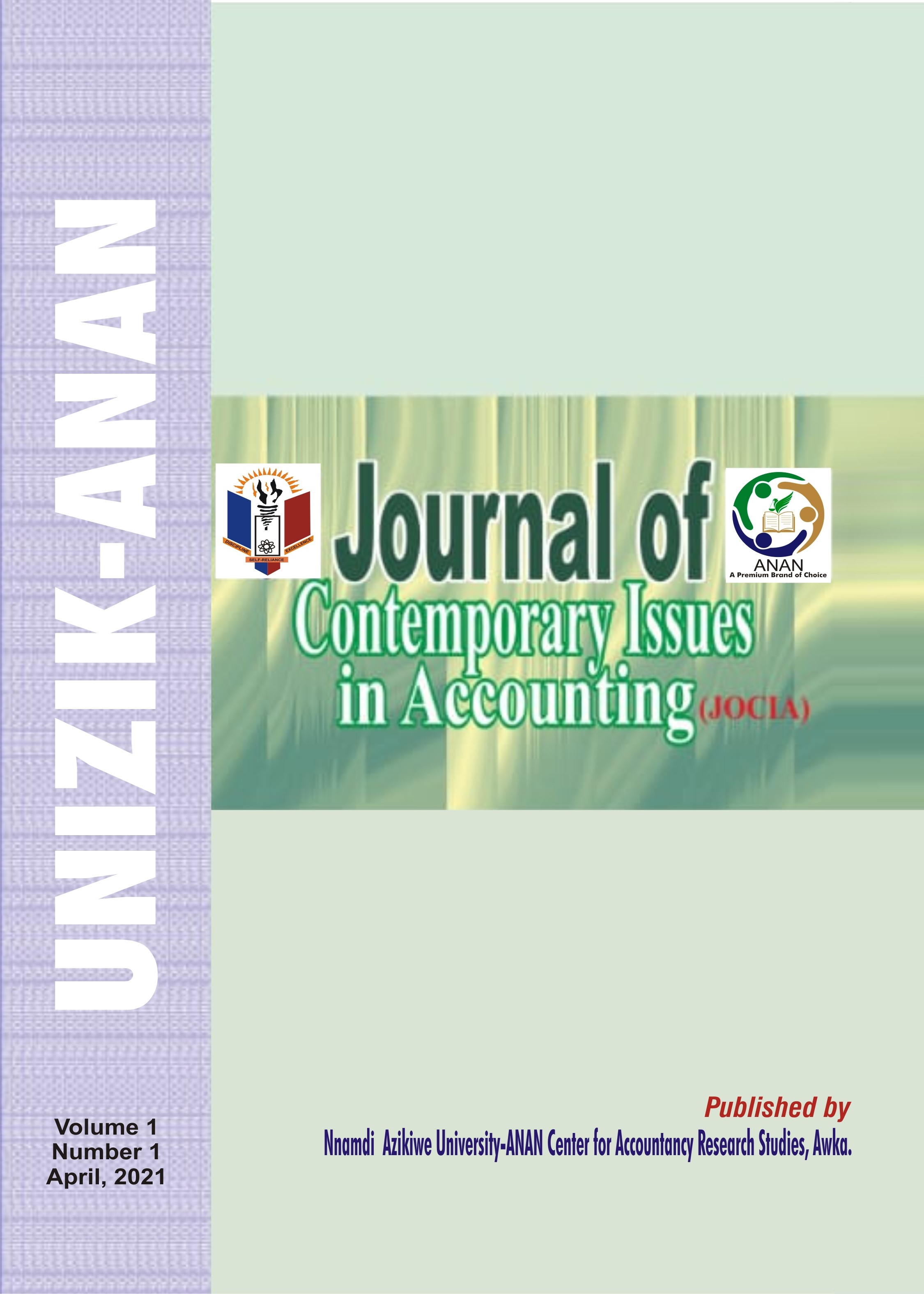 Downloads
How to Cite
Demaki, G., Eromafuru, E., & Imasuen, O. F. (2021). ELECTRONIC BANKING AND BANK PERFORMANCE IN NIGERIA: A CO-INTEGRATION AND ERROR CORRECTION MODEL APPROACH. Journal of Contemporary Issues in Accounting, 1(1), 12–26. Retrieved from https://journals.unizik.edu.ng/jocia/article/view/905