EFFECT OF ADVANCED MANUFACTURING TECHNOLOGIES ON SUSTAINABILITY REPORTING OF QUOTED CONSUMER GOODS MANUFACTURING FIRMS IN NIGERIA
Keywords:
Advanced manufacturing technology, Social disclosure, Environmental disclosure, Economic disclosure, Sustainability reporting
Abstract
In recent times, advanced manufacturing technologies and sustainability reporting have been the focus of academic and business discuss. To this end, this study seeks to examine the effect of advanced manufacturing technologies on sustainability reporting of quoted consumer goods companies on the floor of the Nigerian Exchange Group. The study was anchored on the legitimacy theory and the ex-post facto research design was employed. The population of the study includes all consumer goods companies as at 31st December, 2019. Data of sustainability reporting (measured by scoring index on the basis of the performance indicators in the global reporting initiative guidelines G4, global reporting initiative and sustainability guidelines on economic, environmental and social performance) and advanced manufacturing technologies (measured by costs of plant and equipment plus information technology costs) were obtained from the annual reports and accounts of the selected consumer goods companies in Nigeria. Data obtained were analyzed using regression estimation technique and the study found a significant relationship between usage of advanced manufacturing technologies and the provision of sustainability disclosures. More so, advanced manufacturing technologies were found to have a significant effect on economic and environmental disclosures but not on social disclosures. Based on the findings, it was recommended among others that the government and the society at large should pay attention to advanced manufacturing technologies used by consumer goods firms to ensure that they promote sustainable development.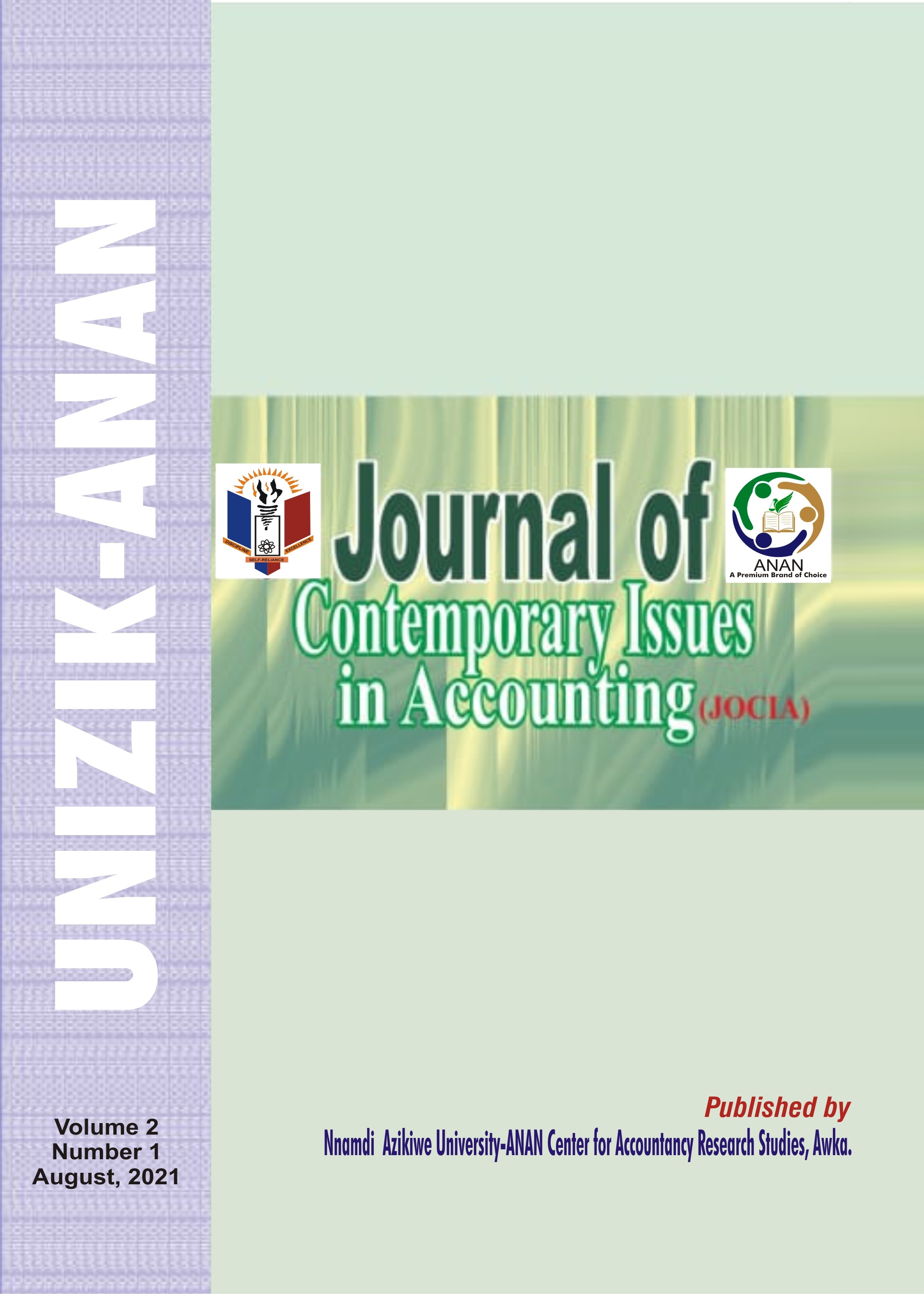 Downloads
How to Cite
Asogwa, C. U., Okafor, G. O., & Egbunike, P. A. (2021). EFFECT OF ADVANCED MANUFACTURING TECHNOLOGIES ON SUSTAINABILITY REPORTING OF QUOTED CONSUMER GOODS MANUFACTURING FIRMS IN NIGERIA. Journal of Contemporary Issues in Accounting, 2(1), 89–102. Retrieved from https://journals.unizik.edu.ng/jocia/article/view/935