OWNERSHIP STRUCTURE AND CORPORATE SOCIAL RESPONSIBILITY DISCLOSURE OF LISTED BANKS IN NIGERIA
Keywords:
Corporate social responsibility, Nigerian banks, Ownership concentration, Managerial ownership, Institutional ownership
Abstract
This study examined the relationship between ownership structure and corporate social responsibility disclosure of Nigerian banks listed on the floor of the Nigeria Exchange Group. The study focused on three ownership structure attributes (managerial, institutional, and concentration of ownerships) and United Nations Global Compact Standard indicator for corporate social responsibility. Data for the study was collected from the annual reports and accounts of banks listed on the floor of the Nigerian Exchange Group from 2009 to 2018 (a 10year period). Data obtained was analysed using descriptive (mean, median, maximum and minimum values, standard, skewness, kurtosis, and Karl Pearson correlation) and inferential (fixed and random effects regression) statistical tools. Findings revealed that ownership concentration had positive and significant effect on corporate social responsibility disclosure; however, managerial and institutional ownerships had negative relationship with corporate social responsibility disclosure. The study therefore recommends among others that management and institutional shareholders should not be allowed to own large amount of equity shares in order to increase corporate social responsibility disclosure in Nigeria banks.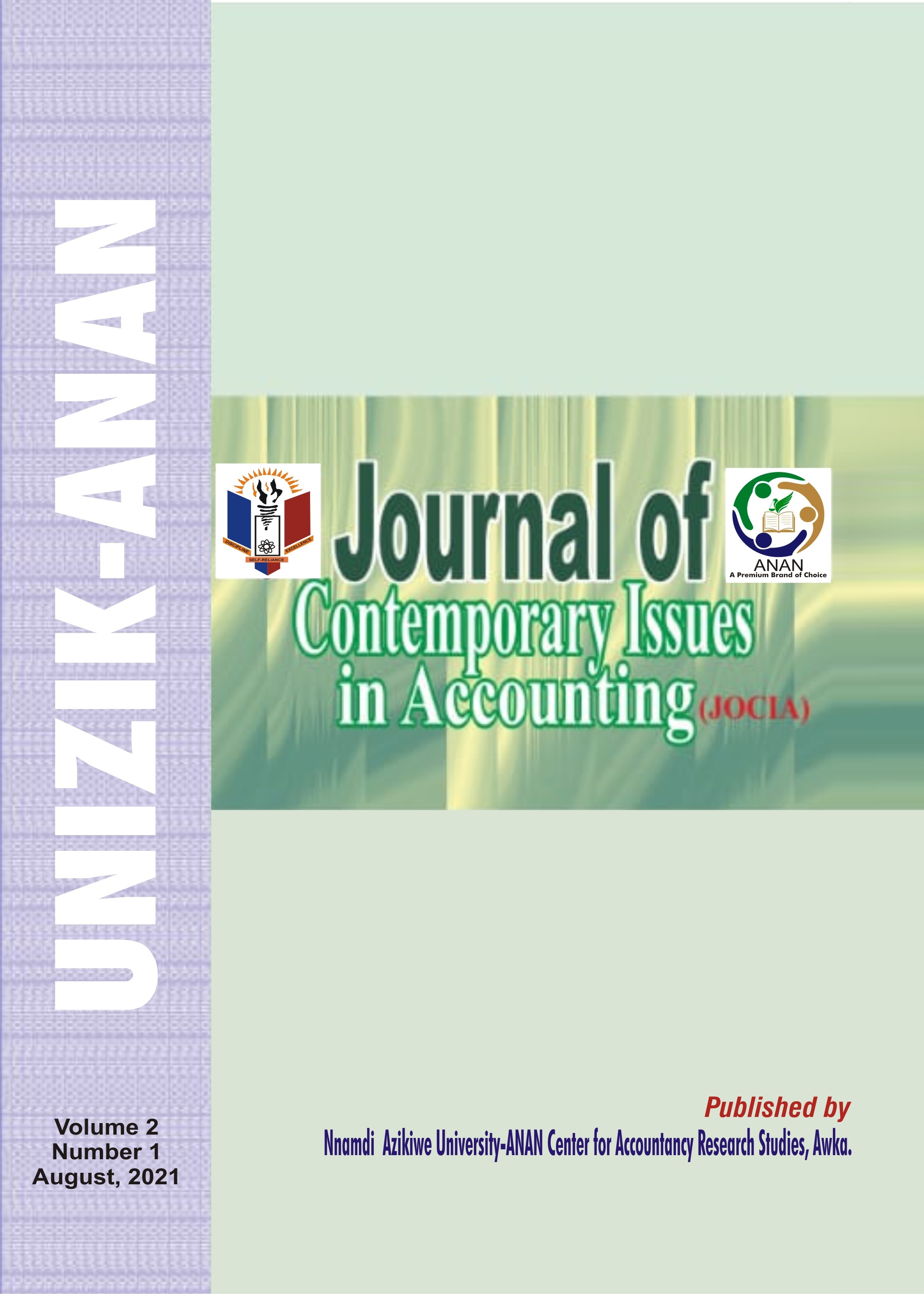 Downloads
How to Cite
Egbunike, P. A., & Efionayi, D. O. (2021). OWNERSHIP STRUCTURE AND CORPORATE SOCIAL RESPONSIBILITY DISCLOSURE OF LISTED BANKS IN NIGERIA. Journal of Contemporary Issues in Accounting, 2(1), 117–128. Retrieved from https://journals.unizik.edu.ng/jocia/article/view/938