MANAGEMENT OF INDIGENOUS KNOWLEDGE: A CASE STUDY OF ZIK RESEARCH CENTRE IN FESTUS AGHAGBO NWAKO LIBRARY
Keywords:
Indigenous knowledge, Nnamdi Azikiwe, Zik Research Centre, Festus Aghagbo Nwako Library
Abstract
The concept of indigenous knowledge aptly applies in Zik Research Centre of Festus Aghagbo Nwako Library. This paper x rayed the life and times of Rt. Hon. Dr Nnamdi Azikiwe whose name the university bears. It also highlights the development, organization, prospects and challenges of the Zik Research Centre. Zik Research Centre is still in its developmental stage. The Centre has however made considerable effort to acquire several print materials on Zik's belief and skills for promoting indigenous knowledge. These include five books written by him and fifteen books written about him. The collection of the Centre also include  newspapers, journal articles and monographs on and about Zik of Africa. The Centre hopes to extend its search to making comprehensive acquisition of both audiovisual materials and transcripts of his numerous interviews. Strategies of how to overcome the challenges of the Centre were made.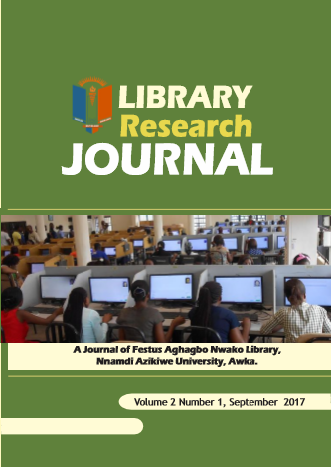 Downloads