COMBATING CLIMATE CHANGE FORSUSTAINABLE FOOD SECURITY IN NIGERIA INTERSECTING SCIENCE WITH THE LAW
Keywords:
Climate Change, Law, Environment, Sustainability, Food Security
Abstract
Climate change has threatened the world's environment, rendering human life vulnerable across all regions of the globe. The trend is not different in Nigeria, where drought, heavy flood, desertification, recession of the Lake Chad and other water sources, etc, have all combined to threaten sustainable food security. Climate change is a global issue currently. Environmental engineers and space scientists insist that climate change is persistent. Its impacts are not limited to agricultural production and prices, trade and food sufficiency but extend also to environmental conditions like water resources, land use and coastal infrastructure, among others. Addressing climate change concern to promote sustainable food security and the overall environmental sanity requires the law as an instrument of social engineering to intersect with science to guarantee tangible progress on implementation of mitigation and adaptation strategies in the environment and agricultural sector in particular. This paper is imperative in this era when states are facing food shortages and famine due to draught, flood and allied adverse weather conditions occasioned by climate change. Doctrinal research method was adopted to explore the role of the law in combating climate change for sustainable food security in Nigeria relying on information from primary, secondary and interdisciplinary sources. It was found, inter alia, that science needs to intersect with the law for improvement of agricultural infrastructure, adaptation and mitigation strategies for rapid responses and innovations in agriculture. We recommended, inter alia, agricultural research funding and development of new agro-technologies, ecological agriculture, mechanization of agriculture and engaging more youth in agriculture; establishment of legal and institutional framework necessary for effective implementation of adaptation and mitigation strategies to address the impacts of climate change in Nigeria.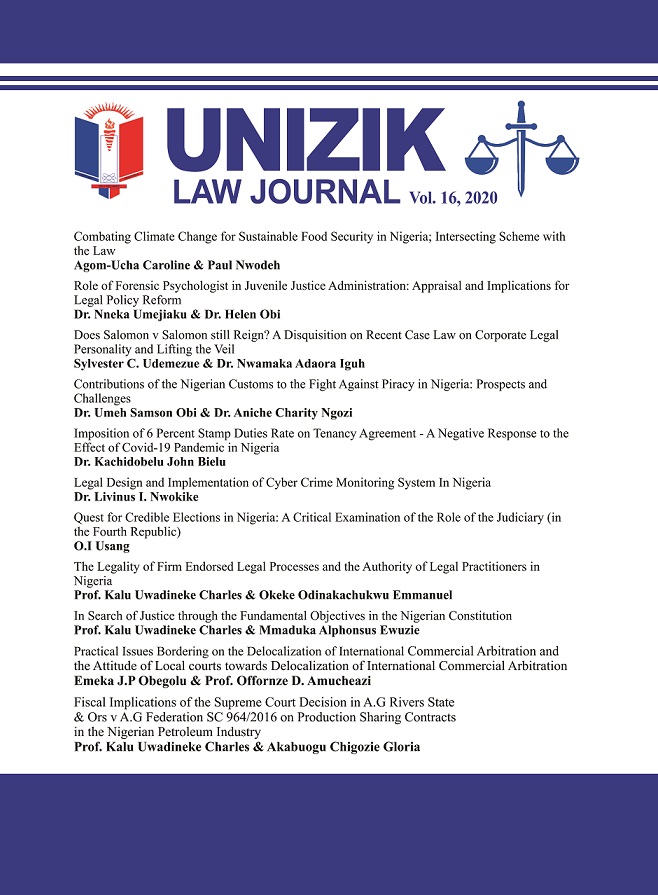 Downloads
How to Cite
Agom-Ucha, C., & Nwodeh, P. (2021). COMBATING CLIMATE CHANGE FORSUSTAINABLE FOOD SECURITY IN NIGERIA INTERSECTING SCIENCE WITH THE LAW. UNIZIK Law Journal, 16(1), 1–23. Retrieved from https://journals.unizik.edu.ng/index.php/ulj/article/view/770