ROLE OF FORENSIC PSYCHOLOGIST IN JUVENILE JUSTICE ADMINISTRATION
Keywords:
Forensic Psychologist, Juvenile Justice Administration, Child Rights Act Legal Policy Reform
Abstract
This study advocates for integration of forensic psychologist in Nigerian Juvenile Justice Administration (JJA). This is germane because of its role in the system particularly in bringing justice to child's matters. The Child's Right Act, merely mentioned personnel with knowledge of psychology without considering the importance of integrating forensic psychologist in the system. This omission is a serious lacuna in the Childs Right Act, and must be corrected for effective juvenile justice administration in Nigeria. At court level, the forensic psychologist understands the language of the courts and the child, hence he has the expertise to translate psychological information into a legal framework and make recommendations to the court on the best treatment of the child. Apart from the court, the role of forensic psychologist is very crucial in police system because he has the ability to train and evaluate the police and other enforcement agencies on the administration of juvenile justice system. The methodology used is analytically, comparative and thematic in scope for instance other jurisdictions like United States of America, United Kingdom and South Africa were compared with Nigeria. The study discovered that Nigerian Juvenile Justice Administrative system comes short of global standard. Further, the study recommends that there should be total overhauling of Nigerian juvenile justice administration and review of our legislation particularly the Child's Rights Act. Again, the 1999 Constitution needs to be amended to reflect provisions that protect children at every stage of the process within the Juvenile Justice Administration. In addition, it is the recommendation of this study that forensic psychologist be employed in juvenile courts, police institutions and custodial institutions for effective administration of juvenile justice.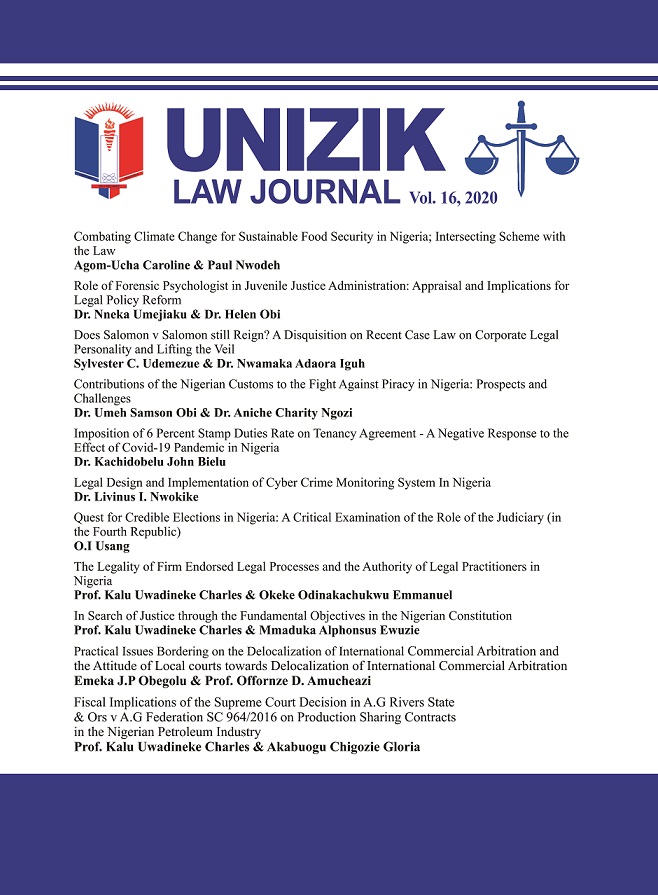 Downloads
How to Cite
Umejiaku , N., & Obi, H. . (2021). ROLE OF FORENSIC PSYCHOLOGIST IN JUVENILE JUSTICE ADMINISTRATION. UNIZIK Law Journal, 16(1), 24–42. Retrieved from https://journals.unizik.edu.ng/index.php/ulj/article/view/771