DOES SALOMON VS SALOMON STILL REIGN A DISQUISITION ON RECENT CASE LAW ON CORPORATE LEGAL PERSONALITY AND LIFTING THE VEIL
Keywords:
Corporate Legal Personality, Lifting the Veil, Piercing the Veil, Incorporation, Company Law, Corporate Liability
Abstract
The principle established in the UK House of Lords` case of Salomon v Salomon (1897) AC 22 is universally known as the concept of Corporate Legal Personality. The implications of the concept include that the liability of members of a company is limited to the amount of their unpaid shares. While the principle is placed on a broad foundation, useful and convenient, it ought to, like many other rules, be received with some qualifications, especially in view of the fact that it has sometimes been relied upon to defraud creditors, to evade existing obligations, to circumvent statutes, or to protect knavery or crime. Occasional piercing of the veil of incorporation is thus considered both desirable and necessary with a view to ensuring that the concept is not used successfully for such negative ends. This paper discusses the concept of Corporate Legal Personality, its implications and continued usefulness in the light of the negative ends to which it is sometimes deployed. Doctrinal method was adopted and analytical approach used in examining the sources of data collection. The writers' suggestion that the concept remains indispensable for the overall preservation of the sanctity of the corporate world is followed by a dispassionate discussion of current case law on Corporate Legal Personality and Lifting of Corporate Veil. Then follow a brief analysis of the circumstances that may justify lifting of the veil, and the writers' conclusion and recommendations..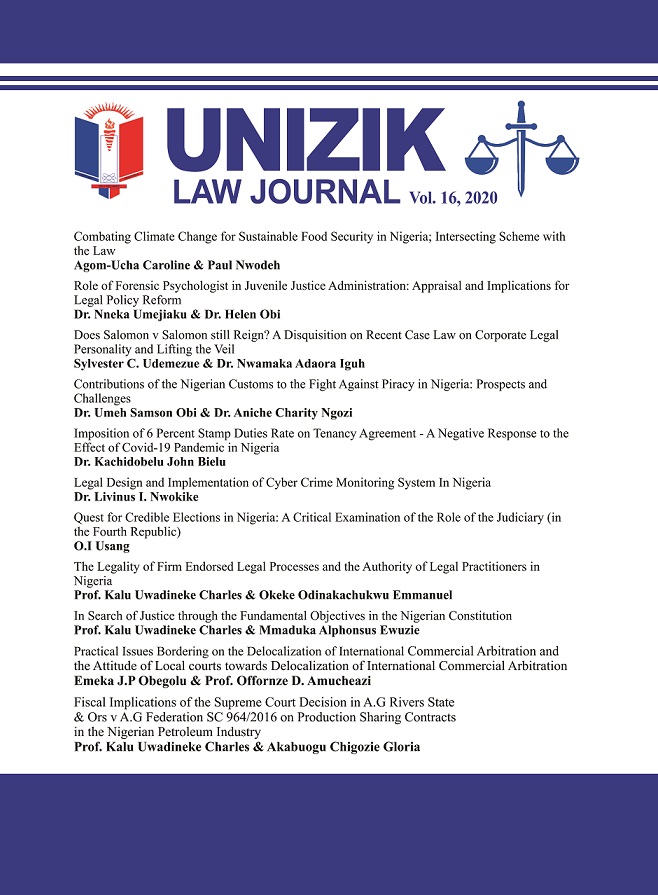 Downloads
How to Cite
Udemezue, S. C. ., & Iguh, N. A. . (2021). DOES SALOMON VS SALOMON STILL REIGN A DISQUISITION ON RECENT CASE LAW ON CORPORATE LEGAL PERSONALITY AND LIFTING THE VEIL. UNIZIK Law Journal, 16(1), 43–56. Retrieved from https://journals.unizik.edu.ng/index.php/ulj/article/view/772