CONTRIBUTIONS OF THE NIGERIAN CUSTOMS TO THE FIGHTAGAINST PIRACY IN NIGERIA
Keywords:
Copyright protection, copyrighted works, Customs and Excise, Enforcement Mechanisms, Nigeria, Right Owners
Abstract
For over twenty five years now, Nigeria has been grappling with the upsurge in the importation of pirated copies of copyrighted works into Nigeria. This development is fuelled by the scarcity and high cost of the original of works pirated, as well as the high patronage enjoyed by pirated works due to their the low cost. This is done in contravention of copyright laws and related legal instruments. The pandemic called 'piracy' is a cankerworm that has eaten deep into the fabric of Nigeria. The continued importation of pirated materials into Nigeria will obviously throw both creators and those working in the creative and entertainment industry out of job.  Besides, piracy has been constituting setback to the diversification policy of Federal Government of Nigeria and if nothing serious is done to eliminate piracy, it has the potentials of totaling annihilating creativity at the long run. Sadly, the activities of pirates have relegated the efforts of the Department of Customs and Excise which has proven to be the best copyright enforcement mechanism in the fight piracy along the territorial borders of Nigeria. This is as a result of the numerous challenges facing the Customs that have crippled this agency in the fight against copyright piracy. Adopting doctrinal research method, as well as analytical and comparative approaches, this research work thoroughly examined the provisions of the Nigerian Copyright Act, the Custom and Excise Management Act, the Constitution of Nigeria and the TRIPS Agreement with the sole aim of discovering those challenges bedeviling the Customs in the fight against piracy in Nigeria. It was found out that piracy thrives in Nigeria as a result of corruption bedeviling the Nigerian Customs; the operation of the obsolete Copyright Legislations which failed to comply with the provisions of International Copyright Agreements/laws; as well as other factors peculiar to the Nigerian system. A good number of recommendations were made on the ways to combat piracy, which includes the amendment of the obsolete Copyright Act of Nigeria and the Custom and Excise Management Act to be in tandem with the Agreement on Trade-Related Aspects of Intellectual Property Rights, the elimination of corruption from the Department of Customs and Excise, training and retraining of the staff of Department of Customs and Excise and others..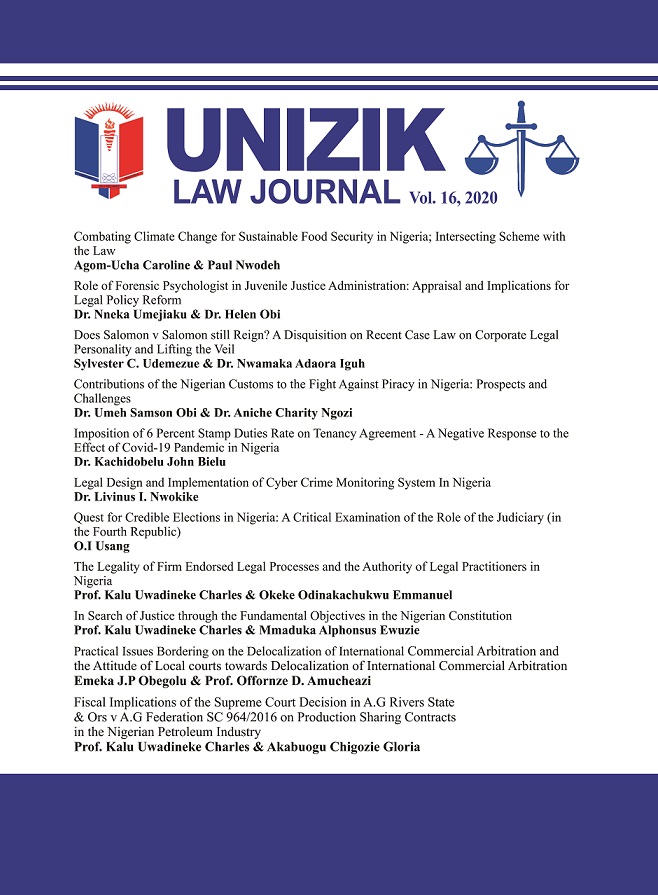 Downloads
How to Cite
Umeh , S. O., & Aniche, C. N. (2021). CONTRIBUTIONS OF THE NIGERIAN CUSTOMS TO THE FIGHTAGAINST PIRACY IN NIGERIA. UNIZIK Law Journal, 16(1), 57–77. Retrieved from https://journals.unizik.edu.ng/index.php/ulj/article/view/773