IMPOSITION OF 6 PERCENT STAMP DUTIES RATE ON TENANCY AGREEMENT – A NEGATIVE RESPONSE TO THE EFFECT OF COVID-19 PANDEMIC IN NIGERIA
Keywords:
Stamp Duties, Tax, Tenancy Agreement, Covid-19, mitigation
Abstract
The sudden surge of the COVID-19 pandemic in the world brought a lot of hardship and harm to individuals, corporate bodies and government. The challenges posed by the pandemic are visible from health to economy, business and commercial sectors. It is not an overstatement that it caused a lot of crisis and led to the death of many people around the globe. The effects led to the reduction or even halt in the economic activities of many countries which Nigeria is not an exception. The impacts of the pandemic on the economy of nations have adverse implications on the tax revenue of these countries. It is worrisome however that while nations battle on how to revamp their economies and assist or cushion the effects of the pandemic on their citizenry, the reverse is the case in Nigeria. In Nigeria, the Federal Inland Revenue Service (FIRS) rather than make policies towards the reduction of tax rates or outright waiver of taxes to be paid by tax payers in order to mitigate the effects of the pandemic increased the pain and hardship on individuals involved in tenancy. Doctrinal method of data collection was adopted and analytical approach used in examining research materials like Stamp Duties Act, judicial decisions, textbooks, journal articles, internet sources and so on.  The paper discovered that FIRS rather than maintain status quo in the face of the deadly effects of the pandemic on taxpayers increased their woes. It is also unfortunate that this unilateral action in increasing the rate astronomically is illegal as it is not backed by any law and amounts to usurpation of the powers of the National Assembly. It is expected that stakeholders in tax matters will challenge this illegality as same is ultra vires.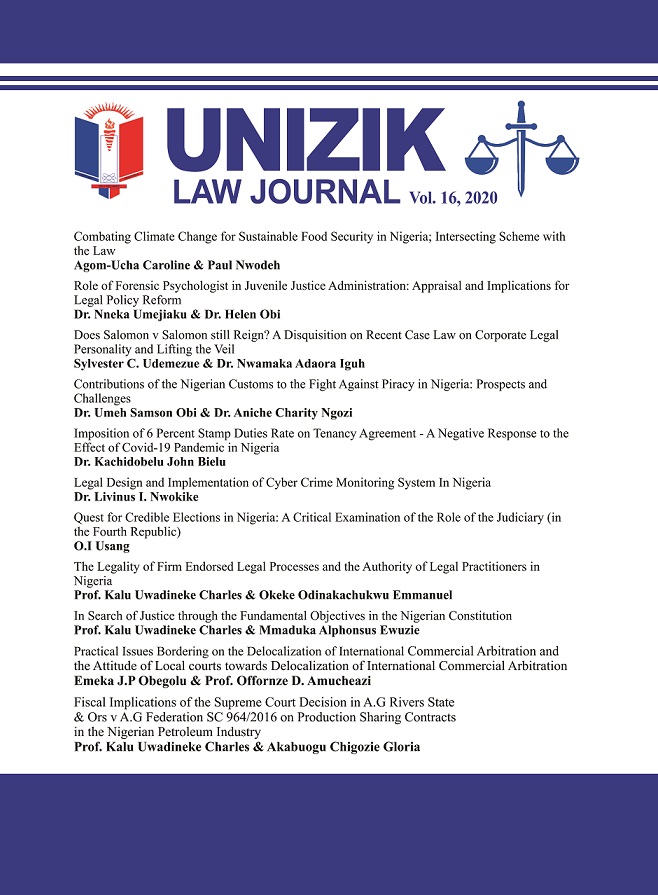 Downloads
How to Cite
Bielu, K. J. . (2021). IMPOSITION OF 6 PERCENT STAMP DUTIES RATE ON TENANCY AGREEMENT – A NEGATIVE RESPONSE TO THE EFFECT OF COVID-19 PANDEMIC IN NIGERIA. UNIZIK Law Journal, 16(1), 78–91. Retrieved from https://journals.unizik.edu.ng/index.php/ulj/article/view/775