LEGAL DESIGN AND IMPLEMENTATION OF CYBER CRIME MONITORING SYSTEM IN NIGERIA
Keywords:
Legal design, implementation, cybercrime monitoring system and Nigeria
Abstract
The paper examines the plans made to show the appearance or workings of cybercrime monitoring system under the Nigerian laws; to ascertaining the effective strategies for reducing cybercrimes among the youths and the society at large. The study is aimed at designing and implementing cybercrime monitoring system in Nigeria, the specific objective are to identify the factors responsible for cybercrime among the youths and the society find out the consequences of cybercrime in the Nigerian economy and to find how the economy is affected by high rate of cybercrime in Nigeria among others. The researcher adopted the doctrinal method in obtaining information. This entailed the collection of relevant materials on the topic and carrying out critical analysis and description of the data. Reliance was placed on both primary and secondary sources of obtaining data such as constitution, case law, law books, law journals, laws report, conference papers, treaties and conventions, etcetera. The study found Nigeria to be among top countries where cybercrime records are high. Another finding of this work is that internet technology in Nigeria has led to the modernization of fraud among the youth. Cyber fraud seems to have become accepted as a means of living for the Nigerian youth. We made necessary recommendation after our conclusion in urging the government to develop political will by making available technical facilities to Law Enforcement Agencies towards proper prosecution of Cybercriminals so that the country will be comfortable to the citizens, create awareness against cybercrimes and make the crime a strict liability offence.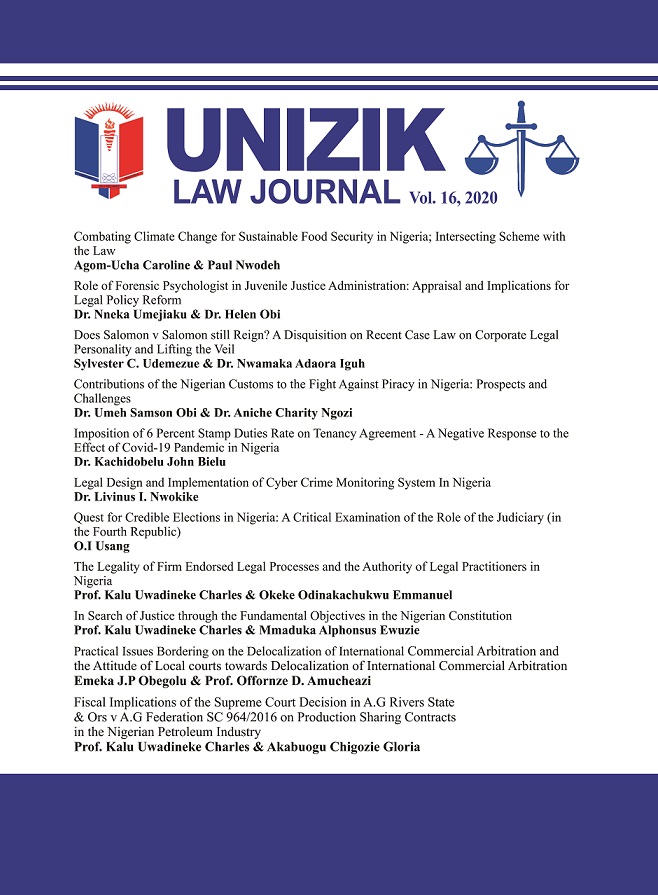 Downloads
How to Cite
Nwokike, L. I. . (2021). LEGAL DESIGN AND IMPLEMENTATION OF CYBER CRIME MONITORING SYSTEM IN NIGERIA. UNIZIK Law Journal, 16(1), 92–107. Retrieved from https://journals.unizik.edu.ng/index.php/ulj/article/view/776