QUEST FOR CREDIBLE ELECTIONS IN NIGERIA A CRITICAL EXAMINATION OF THE ROLE OF THE JUDICIARY
Keywords:
Judiciary, Credible Elections, Quest, Examination, Courts
Abstract
Most elections into political offices in Nigeria hardly end without litigation resulting in one pronouncements or the other on their validity by the courts or tribunals. The elections are usually characterized by lawlessness, violence and other acts that bring their credibility into question. This is prevalent in the present fourth republic.  Here the judiciary has an onerous duty to discharge in deciding who were lawfully nominated or elected in the process. This duty is expected to be discharged with utmost uprightness, integrity and courage and for public interest. Granted that the judiciary has shown some level of valiance in the discharge of its duties, it has also been shown that in recent times, it has created some doubts and disappointments in the minds of some observers by the decisions and pronouncements of the Courts. Some observers have described these decisions and pronouncements as illogical, conflicting or contradicting, thereby eroding the trust and confidence the public had in it before now. This article is therefore targeted at critically examining the role of the judiciary in promoting credible elections in Nigeria and how congruous and spurring its decisions on election matters have been. We shall make some suggestions and recommendations that would to a greater extent, enhance the performance of the judiciary in election matters and thereby encourage credible elections in Nigeria.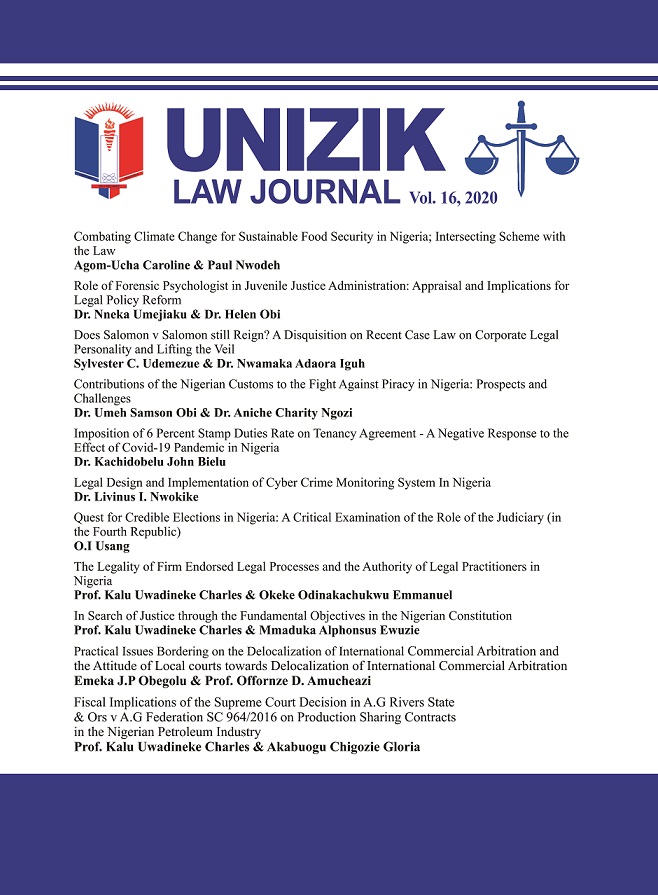 Downloads
How to Cite
O.I Usang. (2021). QUEST FOR CREDIBLE ELECTIONS IN NIGERIA A CRITICAL EXAMINATION OF THE ROLE OF THE JUDICIARY. UNIZIK Law Journal, 16(1), 108–125. Retrieved from https://journals.unizik.edu.ng/index.php/ulj/article/view/777