THE LEGALITY OF FIRM ENDORSED LEGAL PROCESSES AND THE AUTHORITY OF LEGAL PRACTITIONERS IN NIGERIA
Keywords:
Legal, Firm, Mistake, Signature, Blue-pencil, Counsel
Abstract
There is no gainsaying the fact that legal processes or documents (otherwise called pleadings) to be used in litigation must be signed by the makers of such processes. This is to authenticate it to the effect that it reflects the mark of the person who prepared it. There has recently emerged a rich legal jurisprudence on the issue of a firm endorsing legal processes and the legal implications or effects of such endorsements on the entire action or judicial proceedings. The extant view of the apex court, which lower courts in Nigeria, have followed since Okafor v. Nweke was decided in 2007, has remained that such a process where it originates or commences a suit or an appeal, renders the suit or appeal incompetent, null and void. This article queries this apparently settled legal position and the researchers feel strongly that a timeous amendment should cure any apparent defect in such a process. Our various High Court Civil Procedure Rules again contain sweeping corrective provisions and our Judges' Blue Pencil Rule can come to the rescue in such situations. What not? We dedicate the following pages to trying to make you see reasons why it should be so. The law should change on this issue as lawyers are not above honest and genuine mistakes. After all, they are not infallible. Where this happens, should the inadvertence or mistake of counsel in such situations, be heavily visited on the litigant(s) when the contrary should be the rule? This paper recommends in the main that the Supreme Court of Nigeria should please seize the next opportunity that comes its way to override/overrule the legal position which started in 2007 in Okafor v. Nweke and enthrone a more liberal and progressive approach in ruling on legal processes signed or endorsed by a legal firm to such extent that there will be room for regularization of legal documents and/or processes so signed or endorsed.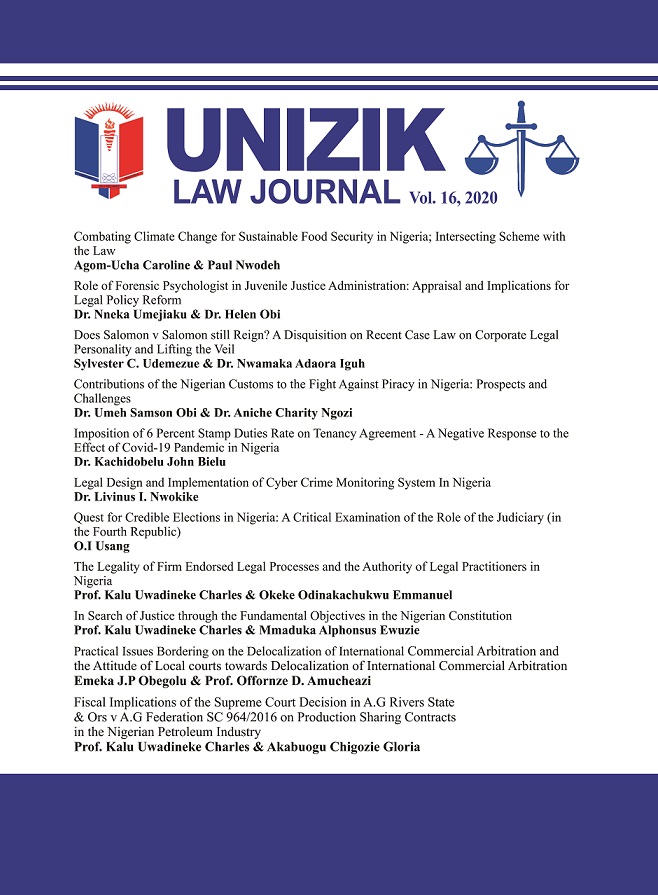 Downloads
How to Cite
Kalu, U. C., & Okeke, O. E. (2021). THE LEGALITY OF FIRM ENDORSED LEGAL PROCESSES AND THE AUTHORITY OF LEGAL PRACTITIONERS IN NIGERIA. UNIZIK Law Journal, 16(1), 126–144. Retrieved from https://journals.unizik.edu.ng/index.php/ulj/article/view/778