PRACTICAL ISSUES BORDERING ON THE DELOCALISATION OF INTERNATIONAL COMMERCIAL ARBITRATION AND THE ATTITUDE OF LOCAL COURTS TOWARDS DELOCALISATION OF INTERNATIONAL COMMERCIAL ARBITRATION
Keywords:
Delocalization, international arbitration, international commercial arbitration, seat theory, lex arbitri, dispute resolution
Abstract
The delocalization of international commercial arbitration is an issue that has sparked series of debates for over 3 decades. The basic proposition of the theory is that international commercial arbitration should not be limited by the procedural laws of the state. This line of reasoning has provoked acceptance by the advocates of delocalization on the one hand, and criticism on the other hand, by traditionalist. The local courts in different jurisdictions have tilted more in favour of the law of the Seat of arbitration. This is a result of various factors influencing the court, such as the perceived need to protect the national laws. But if international commercial arbitration results from contractual relationships, parties should be free to decide on the determining laws to the extent of public policy. This is called party autonomy. Party autonomy is a foundational principle of the delocalization theory. It presupposes that since parties are the live-wire of international commercial arbitration, they are at liberty to determine how their dispute is to be resolved provided no legal or public policy issues of the seat of arbitration or place of enforcement of the arbitral award are breached. Critics of the delocalization of international commercial arbitration maintain that the laws of the Seat of arbitration are important to serve as a standard to maintain fairness and equity. However beautiful the arguments of the both schools have been, we have attempted to show that international commercial arbitration will run at its best with the understanding that delocalization of the process is not an end to the law of the Seat of arbitration, but that there should be a peaceful coexistence between the concept of delocalization and the seat theory. The research work adopted doctrinal method using descriptive, analytical and comparative approaches in the analysis of materials relevant to the research work that is perusal of judicial decisions, journals, articles and legal texts by renowned authors. In this work, the author observes that the courts incline more to protecting the local laws, thereby jettisoning delocalization. This should not be the case as in reality; the concept of delocalization is not an alternative to the seat theory. Rather, both concepts should run hand-in-hand to ensure justice in international commercial arbitration.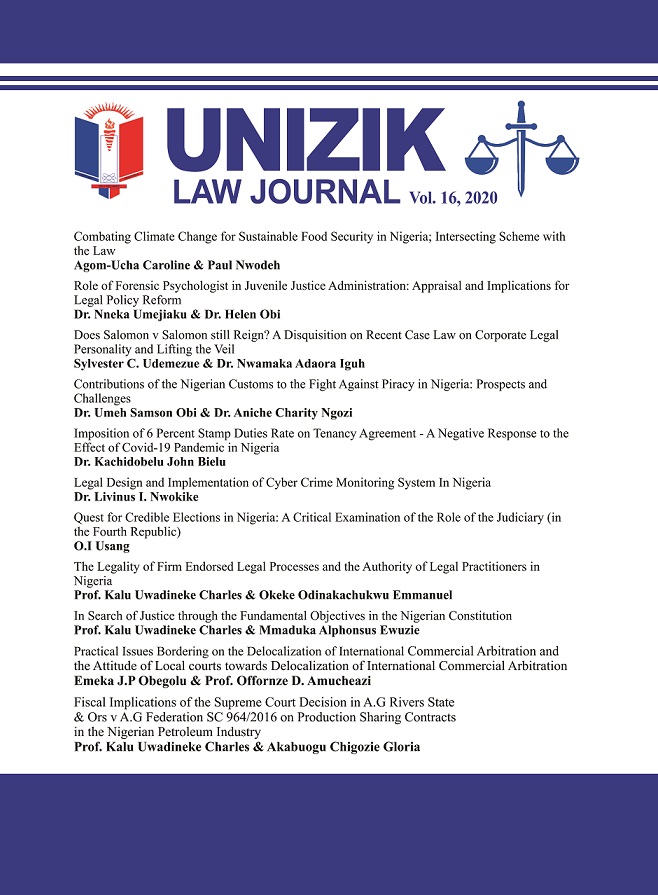 Downloads
How to Cite
Offonze, A., & Obegolu, E. J. . (2021). PRACTICAL ISSUES BORDERING ON THE DELOCALISATION OF INTERNATIONAL COMMERCIAL ARBITRATION AND THE ATTITUDE OF LOCAL COURTS TOWARDS DELOCALISATION OF INTERNATIONAL COMMERCIAL ARBITRATION. UNIZIK Law Journal, 16(1), 156–165. Retrieved from https://journals.unizik.edu.ng/index.php/ulj/article/view/780