FISCAL IMPLICATIONS OF THE SUPREME COURT DECISION IN A G RIVERS STATE & ORS V A G FEDERATION SC964 2016 ON PRODUCTION SHARING CONTRACTS IN THE NIGERIAN PETROLEUM INDUSTRY
Keywords:
Production Sharing Contract, Bonuses, Royalty Oil, Cost Recovery Oil, Tax Oil, Profit Oil, Terms and Relinquishment, Management Committee
Abstract
Production Sharing Contract (PSC) is a distinct petroleum arrangement that has been adopted by many developing countries in the exploration and production of their petroleum resources as it guarantees the sovereign right of the state over these resources and meets their economic desires by providing capital and technology for their production. In this arrangement, the Government assumes minimal or no risk at all in the production of its petroleum resources. PSC was considered fitting as it would not bring about any financial burden on the government as opposed to the joint venture (JV) arrangement where there were challenges of meeting cash call obligation. This article examined the concept and general basic features of PSC. It went further to look at how the extant Supreme Court decision affects the PSC arrangements in the Nigeria petroleum Industry. The research adopted doctrinal methodology using expository and analytical approaches to examine the primary and secondary data collection. The researcher observed that the decision will greatly affect the Petroleum Industry positively if the judgment is executed; as it gives great advantage to Nigeria. This article also identified the shortcomings in the judgment and made important recommendations, such as the non-joinder of the Production Sharing Contractors in Nigeria to the Suit as well as other interested State parties.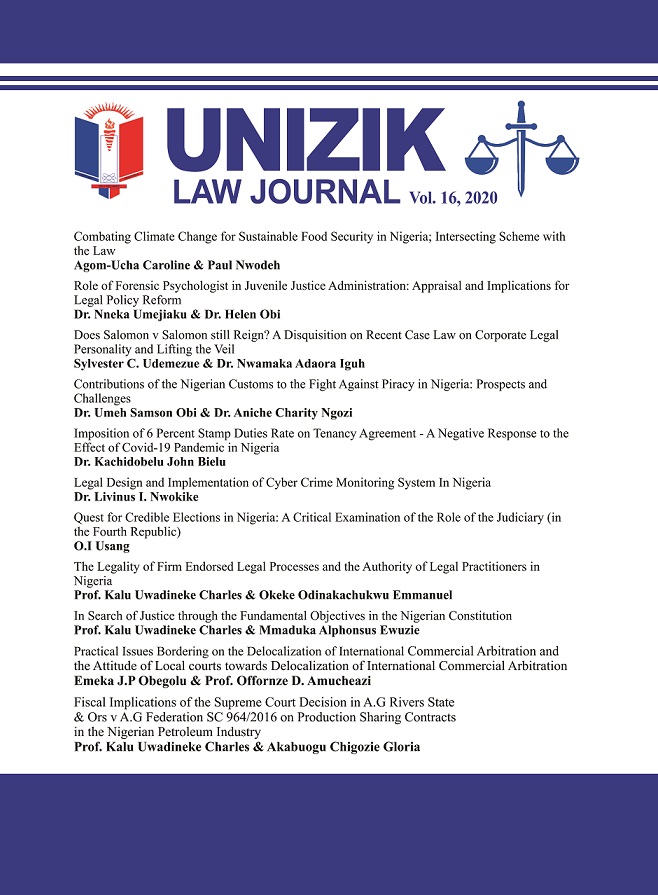 Downloads
How to Cite
Kalu, U. C. ., & Akabuogu , C. G. . (2021). FISCAL IMPLICATIONS OF THE SUPREME COURT DECISION IN A G RIVERS STATE & ORS V A G FEDERATION SC964 2016 ON PRODUCTION SHARING CONTRACTS IN THE NIGERIAN PETROLEUM INDUSTRY. UNIZIK Law Journal, 16(1), 166–183. Retrieved from https://journals.unizik.edu.ng/index.php/ulj/article/view/781