An Appraisal of the legal and Policy Framework in Combating Climate Change in Nigeria: What is the Way Forward
Keywords:
Policy Framework, Combating, Climate Change
Abstract
The climate change debate has moved from being an illusion to being a serious environmental challenge
for modern governments especially in developing societies. Even though, countries in the Global North
have been the culprit and those in the Global South have been the victims, trading blames back and forth
will only aggravate the damage already done. Facing frontally the anthropogenic factors that have
triggered the crisis in Nigeria, for instance, will go a long way in stemming the byzantine effects already
generated. This paper has broadened the climate change discourse by conceptualizing the phenomenon,
identifying its effects on the global and domestic environments and mooted solutions to arrest the
menace. The paper concludes that until the anthropogenic factors that generate and sustain the climate
change menace are addressed, the present generation of Nigerians may not be adequately protected while
there may be nothing to preserve for the future generations. This paper explored data comparatively and
made some useful and achievable recommendations.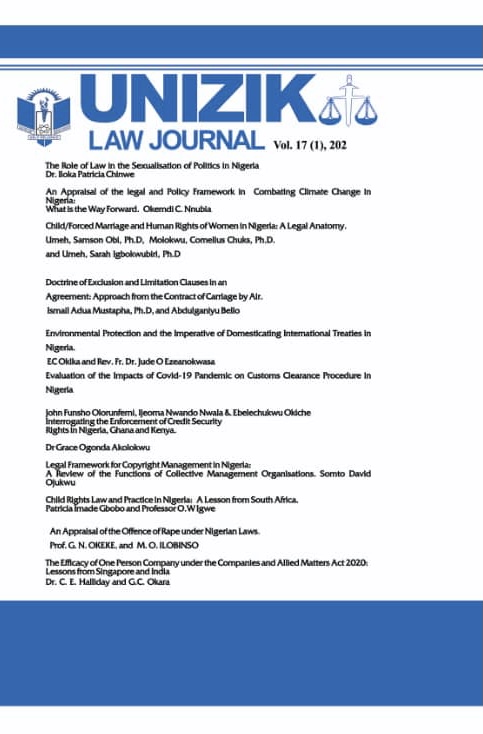 Downloads
How to Cite
OKEMDI C. NNUBIA. (2022). An Appraisal of the legal and Policy Framework in Combating Climate Change in Nigeria: What is the Way Forward. UNIZIK Law Journal, 17(1), 15–25. Retrieved from https://journals.unizik.edu.ng/ulj/article/view/882