DOCTRINE OF EXCLUSION AND LIMITATIONCLAUSES IN AN AGREEMENT: APPROACHFROM THE CONTRACT OF CARRIAGE BY AIR
Keywords:
Exclusion, Limitation, Contract, Carriage by air, consensus ad idem
Abstract
The cardinal principle of law of contract is that, right from the point of entering into an agreement,
parties are and should be allowed to exercise their free will to bargain in any form of contract they wish
to enter into. This is called doctrine of consensus ad idem. It is the consequence of this doctrine that
gives life to the contractual elements thereby validates all the exclusionary and/or limiting clauses
inserted in the agreement between the parties. Be that as it may, Air carrier and passenger(s) are allowed
to insert any of the clauses provided they will act within the general principle of law of contract and the
various international and domestic instruments guiding the contract of carriage by air. Adopting various
interpretations of Montreal Convention 1999 by the Nigerian courts, the paper therefore explores how
the doctrine of exclusion and limitation clauses are being applied to the contract of carriage by air and
under what circumstances would the doctrine be jettisoned in the contract of carriage by air? The paper
is doctrinal in nature; thereby gather information from both the primary and secondary sources of law. It
finds that the general principle of exclusion and limitation clauses is applicable to the contract of carriage
by air; however, the circumstances under which the clauses may be jettisoned are well and clearly stated
in both the international convention and various domestic laws on carriage of passengers, goods and
cargo. The paper concludes and recommends that the validity and enforceability of clause depend on the
effectiveness of the doctrine of consensus ad idemby the parties as well as other terms of the in
contractual agreement. However, the notice of the clauses should be made mandatory rather than its
failure from the air carrier be treated as a mere irregularity. This will further sensitize the passengers as
to the nature and consequence of the clause inserted into the air ticket.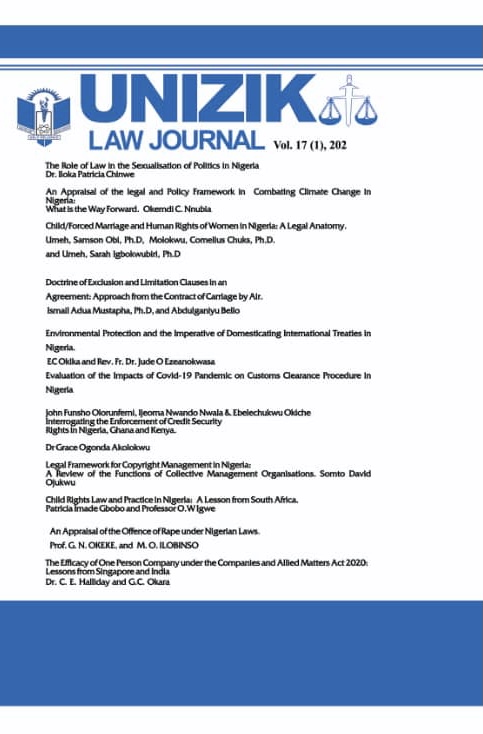 Downloads
How to Cite
Ismail Adua Mustapha, & Abdulganiyu Bello. (2022). DOCTRINE OF EXCLUSION AND LIMITATIONCLAUSES IN AN AGREEMENT: APPROACHFROM THE CONTRACT OF CARRIAGE BY AIR. UNIZIK Law Journal, 17(1), 41 –. Retrieved from https://journals.unizik.edu.ng/index.php/ulj/article/view/884