ENVIRONMENTAL PROTECTION AND THE IMPERATIVE OF DOMESTICATING INTERNATIONAL TREATIES IN NIGERIA
Keywords:
Environmental Protection, Treaties, Domestication and National Assembly
Abstract
Prior to the dumping of about 8000 drums of radioactive waste by an Italian ship in a small town of
Koko, Delta State (former Bendel State) in 1988, Nigeria had no comprehensive law for protection of the
environment. The Koko incident woke up Nigeria from slumber into taking concrete steps in protecting
the environment by enacting the Harmful Waste (Special Criminal provisions) Act through the then
Decree 42 of 1988 and Federal Environmental Protection Agency (FEPA) 1988,now known as National
Environmental Standards and Regulations Enforcement Agency (NESREA) Act 2007, as both legal and
institutional framework for the protection and management of the environment. Despite the two
enactments, environmental pollution and degradation have continued unabated in Nigeria. This led this
article to critically examine the imperativeness of domestication of international treaties in driving the
environmental policy of Nigeria. The finding is that there are challenges militating against domestication
of environmental treaties in Nigeria such as the reluctance on the part of the executive arm of
government in ratifying treaties made on behalf of the country and non-participation of the National
Assembly in treaty making. The research methodology adopted by the researchers is purely doctrinal
with analytical and descriptive approaches in recommending the immediate ratification of all
environmental treaties by the executive arm of government and the amendment of Treaties (Making
Procedure Etc) Act, 2004 to make the participation of National Assembly in treaty-making process
compulsory.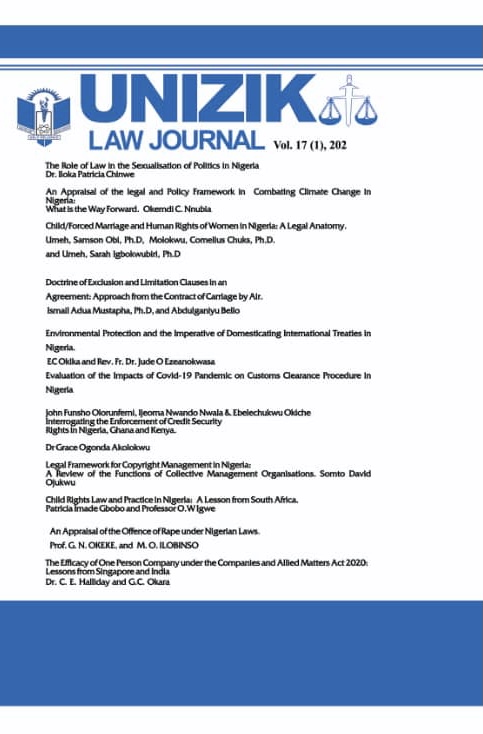 Downloads
How to Cite
Jude O Ezeanokwasa, & EC Okika. (2022). ENVIRONMENTAL PROTECTION AND THE IMPERATIVE OF DOMESTICATING INTERNATIONAL TREATIES IN NIGERIA. UNIZIK Law Journal, 17(1), 55 –. Retrieved from https://journals.unizik.edu.ng/index.php/ulj/article/view/885