EVALUATION OF THE IMPACTS OF COVID-19 PANDEMIC ON CUSTOMS CLEARANCE PROCEDURE IN NIGERIA
Keywords:
African Continental Free Trade Agreement, Covid-19, Customs Clearance Procedure, International Trade
Abstract
Customs clearance is a critical process to the facilitation of international trade through improved customs
and port administrations. Delays and uncertainties in this procedure lead to significant costs for
international trade and the local economy. The COVID-19 pandemic reveals the weaknesses in customs
clearance procedures and the response of government most of which have proved counterproductive.
This paper evaluated the impacts of COVID-19 on customs clearance procedure in Nigeria and its
implication for the regional integration efforts under the African Continental Free Trade Agreement
(AfCFTA). The paper adopted doctrinal research method by relyingon relevant statutes and literature. It
provided an overview of the legal and institutional framework for customs clearance in Nigeria; analysed
the customs clearance procedure before and after the pandemic and made necessary recommendations. It
argued that the current procedure and policies are inefficient to encourage international trade with
Nigeria and is bound to experience challenges in implementing the ambitions of the AfCFTA. It
recommended the introduction of a robust customs clearance procedure and the use of technology to
simplify procedures and facilitate trade for preparing the country to take advantage of the opportunities
presented by the AfCFTA.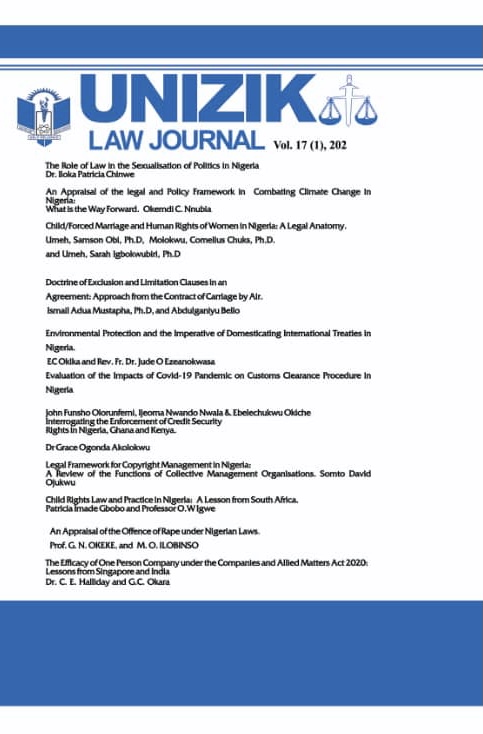 Downloads
How to Cite
John Funsho Olorunfemi, Ijeoma Nwando Nwala, & Ebelechukwu Okiche. (2022). EVALUATION OF THE IMPACTS OF COVID-19 PANDEMIC ON CUSTOMS CLEARANCE PROCEDURE IN NIGERIA. UNIZIK Law Journal, 17(1), 63–74. Retrieved from https://journals.unizik.edu.ng/index.php/ulj/article/view/909