INTERROGATING THE ENFORCEMENT OF CREDIT SECURITY RIGHTS IN NIGERIA, GHANA AND KENYA
Keywords:
Credits, Credit Security, Secured Credit systems, Mortgages and Charges
Abstract
The paper examined the enforcement of credit security rights in Nigeria, Ghana and Kenya.Enforcement
of various forms of credit security in any economy and especially in the three countries which form the
focus of this paper concern how quick and easy it is for a creditor to realise credit lent to a borrower. The
ability to recover loans advanced encourages further advances and positively affects the economy of
nations while the opposite is a sine qua non to economic stagnation and retardation. The motivation for
this paper is to underscore the importance of credit financing backed by adequate securities to the growth
of the nation's economy and the need for effective enforcement of provisions of enabling laws. The
paper adopting the doctrinal research methodology examined primary and secondary sources of law on
the subject matter and found amongst others that common credit security systems existed in the three
countries under scrutiny with relevant laws particular to each country. It was also found that secured
credit transactions as live wires of economic businesses thrive on the borrowing and lending of credit
which oil the wheels of a nation's economic development thereby guaranteeing sustainable wealth for
persons, organizations and the nation at large. Furthermore, it was found that there were significant
differences between credit regimes of the three countries especially in the enforcement of credit security
rights. The paper therefore recommended amongst others, the harmonisation of all relevant laws on
credit financing and credit security in Nigeria and more particularly,the amendment of section 40(5) of
the Secured Transactions in Moveable Assets Act 2017 which provides for the use of the police in the
recovery of a collateral to be subject to the creditor first obtaining a court approval for involving the
police.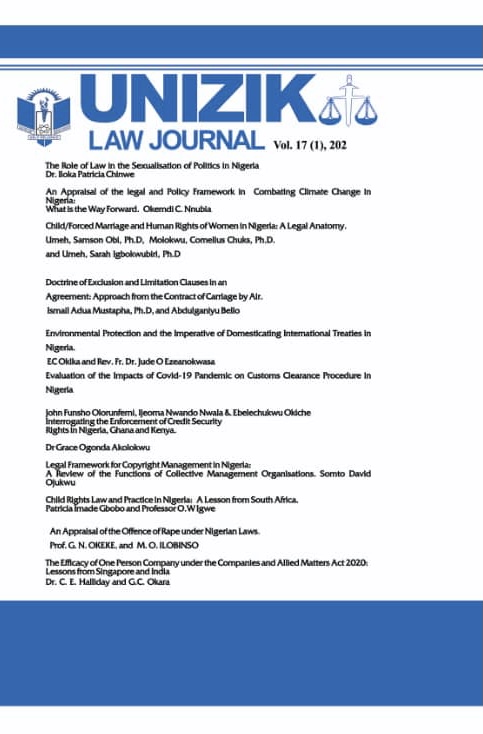 Downloads
How to Cite
Grace Ogonda Akolokwu. (2022). INTERROGATING THE ENFORCEMENT OF CREDIT SECURITY RIGHTS IN NIGERIA, GHANA AND KENYA. UNIZIK Law Journal, 17(1), 75 –. Retrieved from https://journals.unizik.edu.ng/index.php/ulj/article/view/910