LEGAL FRAMEWORK FOR COPYRIGHT MANAGEMENT IN NIGERIA: A REVIEW OF THE FUNCTIONS OF COLLECTIVE MANAGEMENT ORGANISATIONS
Keywords:
Copyrights, Collective Management Organisation (CMO), Nigerian Copyright Commission (NCC)
Abstract
The essence of copyright management is to plummet infringements and establish a structure for
copyright owners to enjoy maximum benefits from the exploitation of their works. However, despite
efforts in creating an efficient copyright management, much has not been achieved as the advancement
of technology has challenged the efforts as infringement is now easier and with global nature. With the
above, an efficient copyright management in the present technological age will naturally be complex and
flexible to take care of developing technologies. This work made a study of the legal framework for the
management of copyright in Nigeria, considering the duties and powers of the Nigerian Copyright
Commission as the sole administrative/regulatory body with responsibility of ensuring proper
administration of copyright in Nigeria. Nigerian Copyright Commission has powers to approve
Collective Management Organisations which directly manages the rights of copyright owners on their
behalf. Under normal circumstance, the law is supposed to keep pace with changes in society. However,
the rapid technological changes creating new channels and modes of copyright infringement is clearly
threatening to leave the Nigerian law behind and obsolete against copyright management. The study
adopted the doctrinal research methodology using analytical approach with the aid of statutory
enactments, case laws, text books. It is the finding in the paper that Nigerian Copyright Commission and
Collective Management Organisations as approved by Nigerian Copyright Commission are laid back and
need to catch up with technological trend for effective management of copyright.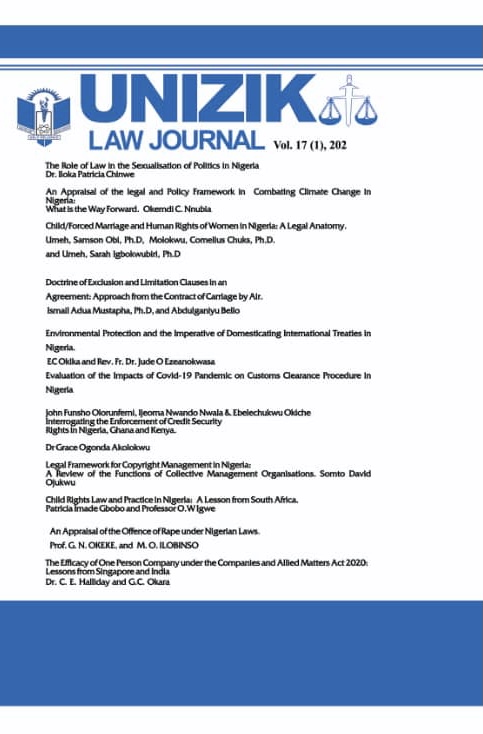 Downloads
How to Cite
Somto David Ojukwu. (2022). LEGAL FRAMEWORK FOR COPYRIGHT MANAGEMENT IN NIGERIA: A REVIEW OF THE FUNCTIONS OF COLLECTIVE MANAGEMENT ORGANISATIONS. UNIZIK Law Journal, 17(1), 88–96. Retrieved from https://journals.unizik.edu.ng/index.php/ulj/article/view/911