THE EFFICACY OF ONE PERSON COMPANY UNDER THE COMPANIES AND ALLIED MATTERS ACT 2020: LESSONS FROM SINGAPORE AND INDIA
Keywords:
CAMA 2020, Company, One Person Company (OPC), Indian Companies Act 2013, Singapore Companies (amendment) Act, Nominee
Abstract
A Company is a person or a body of persons who pool their resources together in other to form a
business for profit maximization or social responsibility. The business association under this heading
has one feature in common;they have legal personality that is they are legal entities distinct and separate
from the persons of which they consist. In the same stead, a company is the greatest asset of the Gross
Domestic Product of several countries and by extension, the per capital income. It is therefore
submitted that a company is a veritable medium for carrying out business and non business activities in
a society. It is not in doubt that section 18 (2) of the Companies and Allied Matters Act 2020 (CAMA
2020) provided for the novel practice of One Person Company (OPC) in Nigeria. Essentially, this paper
which adopted the doctrinal research methodology interrogated the history of companies in Nigeria;
merits/demerits of OPC in the economic sphere of a society; provision of OPC under the CAMA 2020
and the lessons derivable from the practice and procedure of OPC in the jurisdictions of Singapore and
India with the aim of rejigging the practice and procedure of OPC in Nigeria. It was observed by this
paper that the CAMA 2020 which provides the current legal framework for the practice of OPC in
Nigeria merely provided for OPC but never contemplated the possible continuity of OPCs upon the
death of the subscriber. Thus, therecommendations of this paper included that the provisions of the
CAMA 2020 should be amended to provide for a nominee who shall in the event of the subscriber's
death or his incapacity to contract become the member of the company and interventions should be
provided in circumstances of withdrawal of consent, death and incapacity of the contracted nominee to
an OPC in Nigeria as practiced in India and Singapore.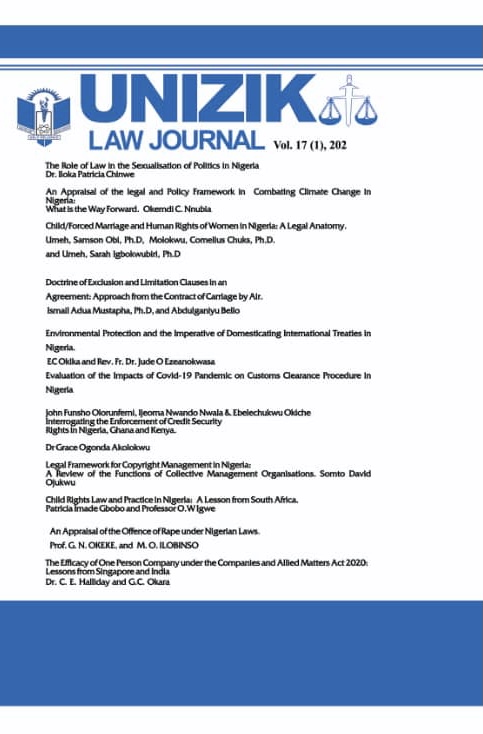 Downloads
How to Cite
C. E. Halliday, & G.C. Okara. (2022). THE EFFICACY OF ONE PERSON COMPANY UNDER THE COMPANIES AND ALLIED MATTERS ACT 2020: LESSONS FROM SINGAPORE AND INDIA. UNIZIK Law Journal, 17(1), 127–138. Retrieved from https://journals.unizik.edu.ng/index.php/ulj/article/view/915