The Expediency in Amending the Nigerian Copyright Act
Keywords:
Nigerian Copyright Bill, Marrakesh Treaty, Blind, Print disabled persons, Copyright Infringement
Abstract
The current Copyright Act provides for categories of works that can be protected and also makes
provision for the use of protected works in ways that would not affect the right of the work
owner. Accessing works of copyright is a public right that should not be affected by one's
disability. This research highlights that in providing the exceptions to copyright infringement, the
Copyright Act does not adequately provide for ways copyright works can be used by persons
with disability especially the blind, visually impaired and otherwise print disabled persons in the
society, without infringing the legitimate right of a copyright owner. In the course of this
research, reliance was placed on statutory provisions, international treaties, textbooks and
internet publications and it was discovered that the current Nigerian Copyright Act has its
inadequacies with respect to the free accessibility of disabled persons to Copyright Works. The
Marrakesh Treaty to Facilitate Access to published Works for Persons Who Are Blind, Visually
Impaired, or Otherwise Print Disabled 2013 recognizes and provides for disabled persons to
freely access copyright works without infringing the right of a work owner. Despite the goals and
objectives of this treaty, it would be useless in Nigeria if it does not follow the due process as
provided by the constitution for its domestication. The Draft Copyright Bill of 2015 implemented
the provisions of this treaty and is currently going through the requisite process before it can be
enacted as law. Amendment of the Nigerian Copyright Act to accommodate the rights of Persons
Who Are Blind, Visually Impaired, or Otherwise Print Disabled cannot be trivialized in view of
universally recognized human right standards set to avoid discrimination.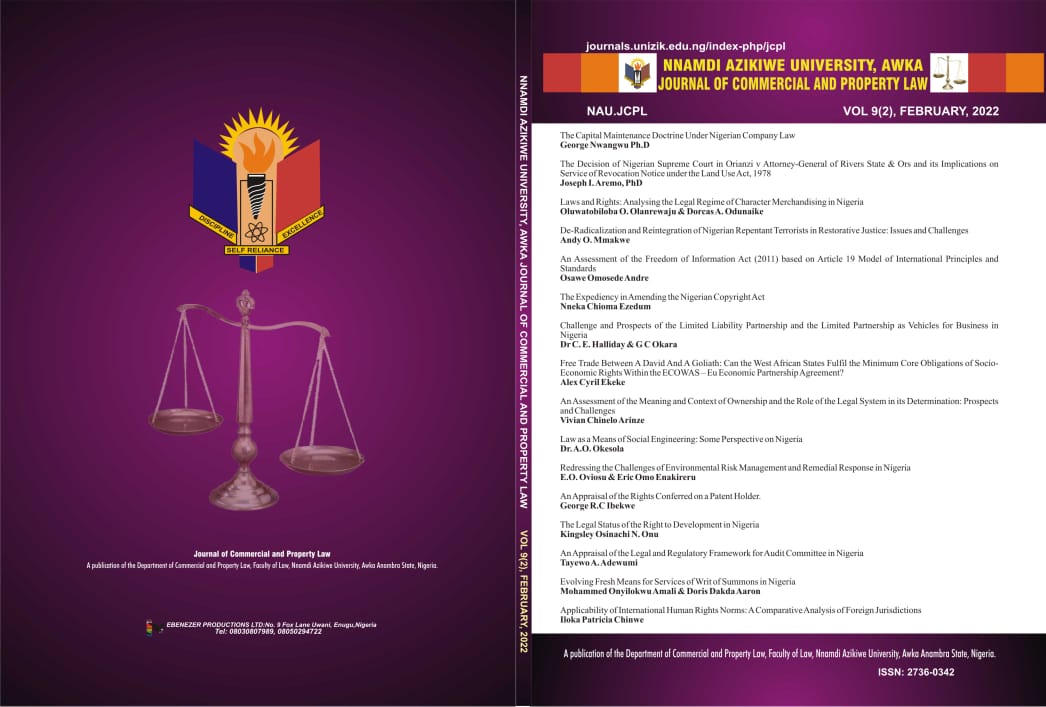 Downloads