Applicability of International Human Rights Norms: A Comparative Analysis of Foreign Jurisdictions
Keywords:
International Human Right, Norms, Advocacy and Implementation
Abstract
The world has wrestled with racial, religious and political hostilities for a long time in history.
When mankind emerged from the bloody conflict in which the free nations of the world
conquered Nazi aggression, racism, and the evil forces of hate, the people of the world
established universal norms of conduct and institutionalized them in international and regional
organizations. As the United Nation's Charter indicates, the foundations which established
respect for and observance of human rights are indispensable to peace; human rights are
universal and indivisible; and it recognizes the inherent dignity, equality, and inalienable rights
of all members of the human family. The Nations of the world exemplify and extol the qualities
of justice and brotherhood which create unity out of diversity, understanding out of disparity and
richness out of variety. In the science and practice of law, the classic doctrine of natural justice,
equity, and good conscience presupposed the existence of a basic concept of fairness which
ought to inform and direct the structure and conduct of government as well as relationships
between human beings. The worth whileness of international human rights norms is embraced by
different jurisdictions with some deviations. It, therefore, becomes imperative to comparatively
analyse the applicability of international human rights norms in foreign jurisdictions. Hence, this
study advocates for application of international norms in the Nigerian legal system. The study
adopted doctrinal approach and comparative analysis to arrive at its findings. Accordingly, the
work observes that international human rights laws are not enjoyed by many Nigerians due to
lapses inherent in our laws, for instance the 1999 Constitution. Hence, the work recommends
for the review of Nigerian Constitution particularly Chapter (ii) of the Constitution should be
made justiciable to conform to international best practices. Also, section 12(1) and section
6(6)(c) should be relaxed in order to accommodate international human rights norms so as to
make them complementary to domestic laws. Further, the paper recommends that the National
Assembly should domesticate international legal instruments which have been ratified, like the
CEDAW.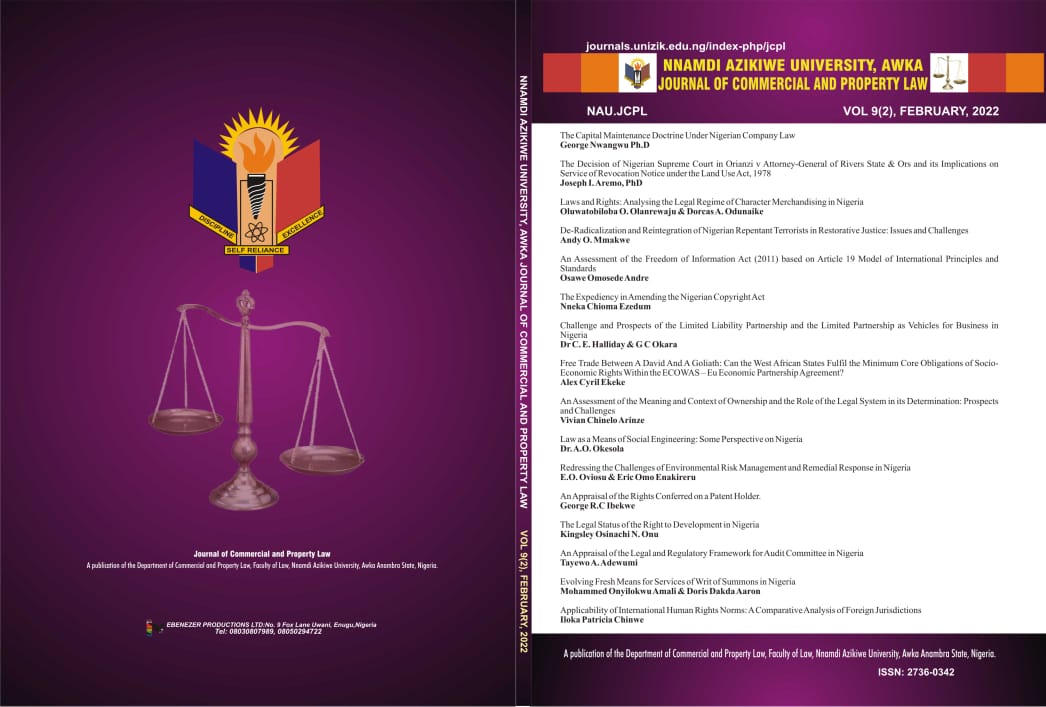 Downloads