A LEGAL EVALUATION OF THE RUGA SETTLEMENT SCHEME AS RESPONSE TO HERDER-FARMER CONFLICTS, FOOD SCARCITY AND UNEMPLOYMENT IN NIGERIA
Keywords:
Ruga Settlement Scheme, Herder-Farmer Conflict, Open Grazing, Food Security, Unemployment, National Livestock Transformation Plan
Abstract
This paper examines 'The Federal RUGA Settlement Scheme against the background of the incessant attacks and clashes between Fulani herdsmen and indigenous farmers in farming communities in different parts of Nigeria. These attacks, caused by incursion of free-roaming cattle into private properties and farmlands, have claimed countless lives, interrupted livelihoods, destroyed properties running into hundreds of millions and threatened the food security of the nation. The crisis situation prompted some affected states of the federation such as Benue, Ekiti, Taraba and more recently Oyo State to pass Anti-Open Grazing Legislation. These Anti-open Grazing Laws were criticized as being discriminatory and soon became an excuse for inflammatory rhetoric and violent clashes.  The federal government responded by introducing RUGA as a scheme to permanently settle herders and their families in built colonies on compulsorily acquired state lands across the country so that cattle could be ranched closer to the end users in each state. The Ruga Scheme was vociferously denounced by Southern Nigerians who saw it as a ploy by the Federal Government to further its purported agenda to Islamize the country. This paper takes introspection into the jurisprudential underpinnings and flaws of the Federal Ruga Scheme as a solution to the violent clashes between herders and farmers and the resultant unemployment and food shortage in Nigeria. It expounds on the socio-legal reasons for the suspension of the scheme and explores the legality and viability of its replacement: the National Livestock Transformation Plan (NLTP). The paper employs doctrinal research method in consideration of source materials consulted.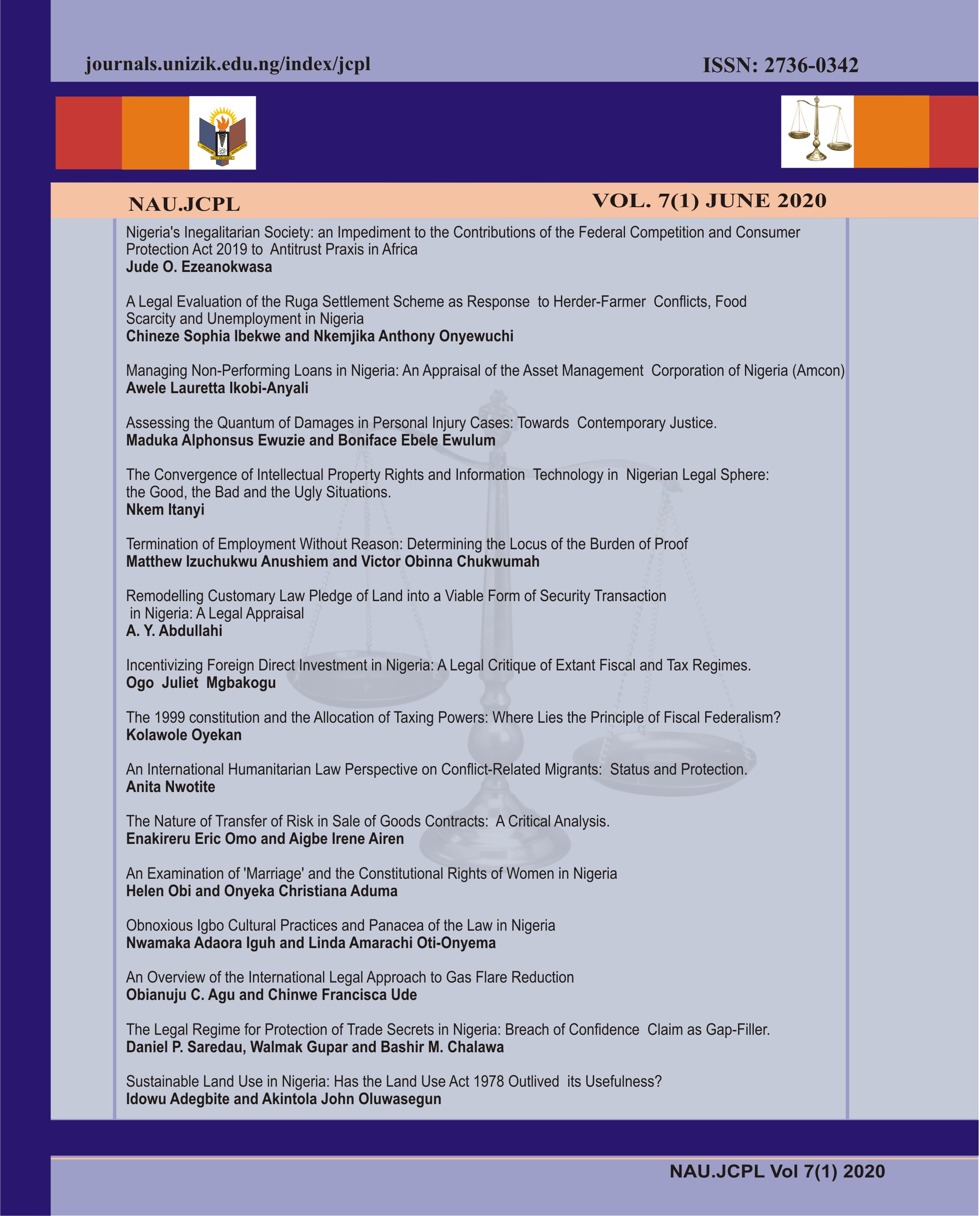 Downloads