Analysis of the Legal Strategies for Tackling the Crime of Kidnapping in the Nigeria's Oil and Gas Industry
Keywords:
Kidnapping, Oil and Gas Industry, Security, Laws, Nigeria
Abstract
The kidnapping of a human being is a global challenge that causes a serious threat to human's dignity. It is predominant in Nigeria, a nation endowed with massive oil and gas resources, relying on it as a source of foreign incomes. Therefore, the government bends to guarantee continuous production of oil to boost its economy. Recently, the occurrences of kidnapping in Nigeria's oil and gas industry have taken a shocking dimension for reasons not properly addressed by succeeding governments. It has dented the nation's reputation and foreign policy notwithstanding the provisions of the 1999 Constitution, the Kidnapping Abduction Act, 2017 and the Terrorism (Prevention) Act 2013 and equivalent laws in several states in Nigeria. The provisions of the United Nations Convention against Transnational Organised Crime 2000, however, these legislations appear not to have produced any substantial successes in tackling the crime. The utilisation of military force to curtail the crime has also not yielded any good outcomes. Kidnapping is an infringement of human rights and our communal values as people. Hence, the necessity for tackling the crime in the oil and gas industry. The goal of the study is to provide legal remedies to the scourge to discourage those who intend to commit the crime. The finding is weak implementation of the anti-kidnapping legislations. The prevalence of poverty, corruption and ineffective security network encourages kidnapping in the oil and gas industry. These problems must be combated devoid of delay to tackle the crime of kidnapping being a crime against humanity. Utilising the doctrinal legal research method, the study further utilises primary and secondary sources of legislation such as case laws, International Conventions, textbooks and peer-reviewed journals. Theories were also utilised as the theoretical lens to model the study. The study designs a hybrid model for tackling kidnapping in Nigeria's oil and gas industry. The study recommends upgrading surveillance networking and intelligence processes among security agencies, thorough reform of Nigeria's anti-kidnapping laws and advocates strong political will with sincere commitments being fundamental for combating crime. The study ends that regulatory bodies, regulations addressing protection, victims' needs, and the tactics for tackling the origins of the crime must be overhauled to combat the crime in Nigeria's oil and gas industry.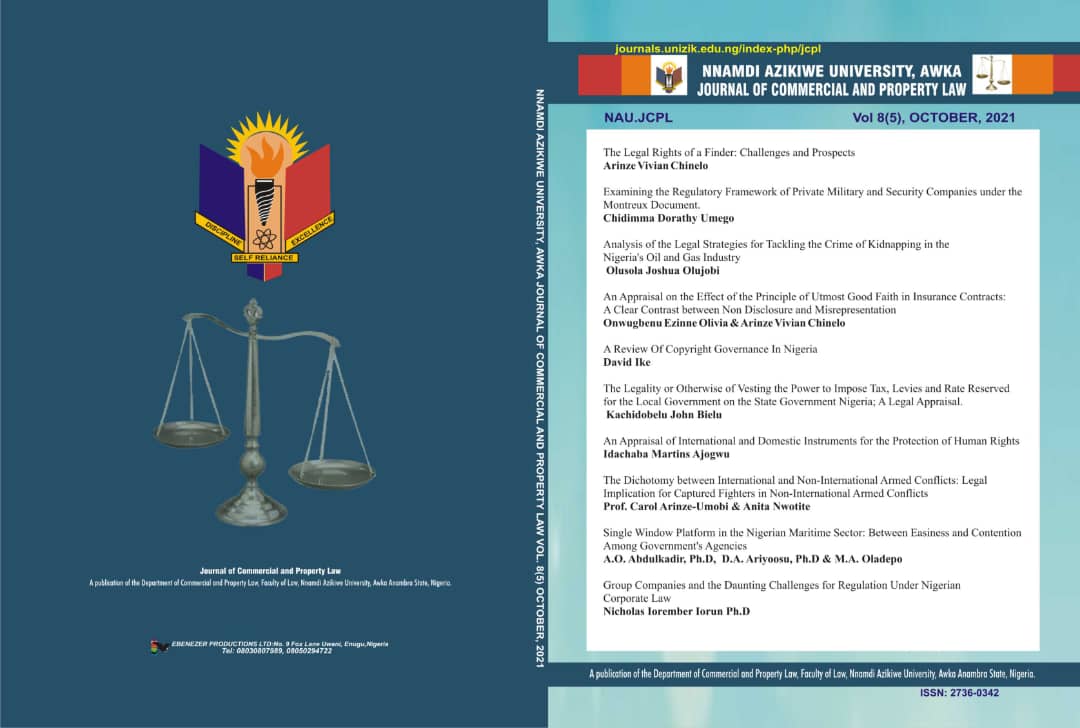 Downloads