The Impact of Stakeholders Model of Corporate Governance to the Effective Performance and Sustainability of Non-Governmental Organizations in Nigeria
Keywords:
Corporate, Governance, Stakeholders, Non-Government Organizations
Abstract
Globally, the interest in the practice of governance has grown with the need to make organizations accountable to owners and stakeholders at large. The role of non-governmental organizations (NGOs) as a corporate entity in providing remedy to social problems has come into the spotlight. With investors channelling huge amount of capital into NGOs in Nigeria, there are key concerns on how these resources are managed to the benefit of stakeholders and beneficiaries generally. It is for this reason that this research would examine the impact of stakeholder regime of corporate governance on NGOs in Nigeria. This model takes the view that managers should take into consideration the interests of all stakeholders in the process of governance. This would seek to bridge the conflict between the various interests. The impact of diverse interests in these organizations is beyond the traditional ownership but encompasses internal and external stakeholders. It subsumes the interests of employees, investors, local community, and family members because corporate activities involve all interests both direct and indirect with the principal goal of ensuring that all concerned interests engage in the activities of the corporation with the aim that these organizations deliver on the desired goals of protecting the interests of stakeholders. By adopting the stakeholder model, this study would interrogate the current state of art in the governance practice among NGOs in Nigeria. Using doctrinal research approach, the various policy frameworks and guidelines governing boards would be explored. The reason for the choice of the stakeholder model of governance is not farfetched - It encompasses the shareholders and other notable models. The roles of this model (stakeholder) in enhancing good governance practice would be interrogated. The weaknesses of NGOs would be exposed through the lens of this model and consequent recommendations would be proffered in this light.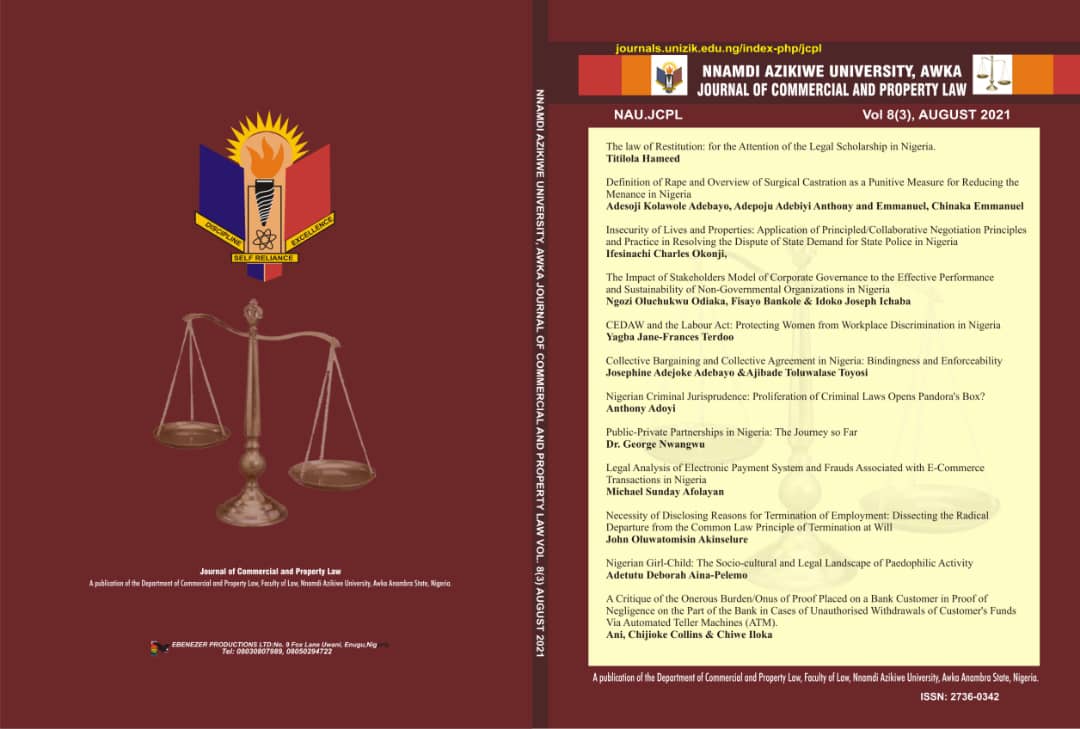 Downloads