Nigerian Criminal Jurisprudence: Proliferation of Criminal Laws Opens Pandora's Box?
Keywords:
Crimes, Crime Control, Criminal legislation, Criminal Prosecution
Abstract
The upsurge of criminalities across Nigeria in recent years is overwhelmingly alarming. The despicable acts of terrorism, banditry, rape, hostage taking, kidnapping, torture, armed robberies, and general violence against persons within the country over the years have forced many to accept the fate as the new normal. Paradoxically, while Nigerians keep witnessing unabated upticks of criminalities ravaging the country, the National Assembly is contemporaneously proliferating criminal laws which are apparently nomenclatural variance devoid of practical and jurisprudential substance. Between 2011 and 2021, the National Assembly had enacted and amended different criminal laws which never had any commensurate positive effects in curbing the rampant criminalities in the country. This article is an overview of the jurisprudential and practical values of: Terrorism (Prevention) (Amendment) Act, 2013; Prevention of Crimes (Amendment) Act, 2016; Violence against Persons (Prohibition) Act, 2015; Same Sex Marriage (Prohibition) Act, 2013; Anti-torture Act, 2017; Compulsory Treatment and Care of Victims of Gunshot Act, 2017 and Nigeria Police Act, 2020. It founds that the proliferations rather opens Pandora's Box by creating more conflict of laws; jurisdictional challenges and prosecutorial difficulties which expose escape loopholes for obvious criminals. The article recommends, inter alia, concerted efforts in training Nigerian criminal law practitioners and security agencies to galvanize toward effective applications and enforcement of these criminal laws. The article concludes that the spiral of criminalities in Nigeria require more formidable measures than volumes of enacted laws. Hermeneutical and comparative approaches constitute our methodology.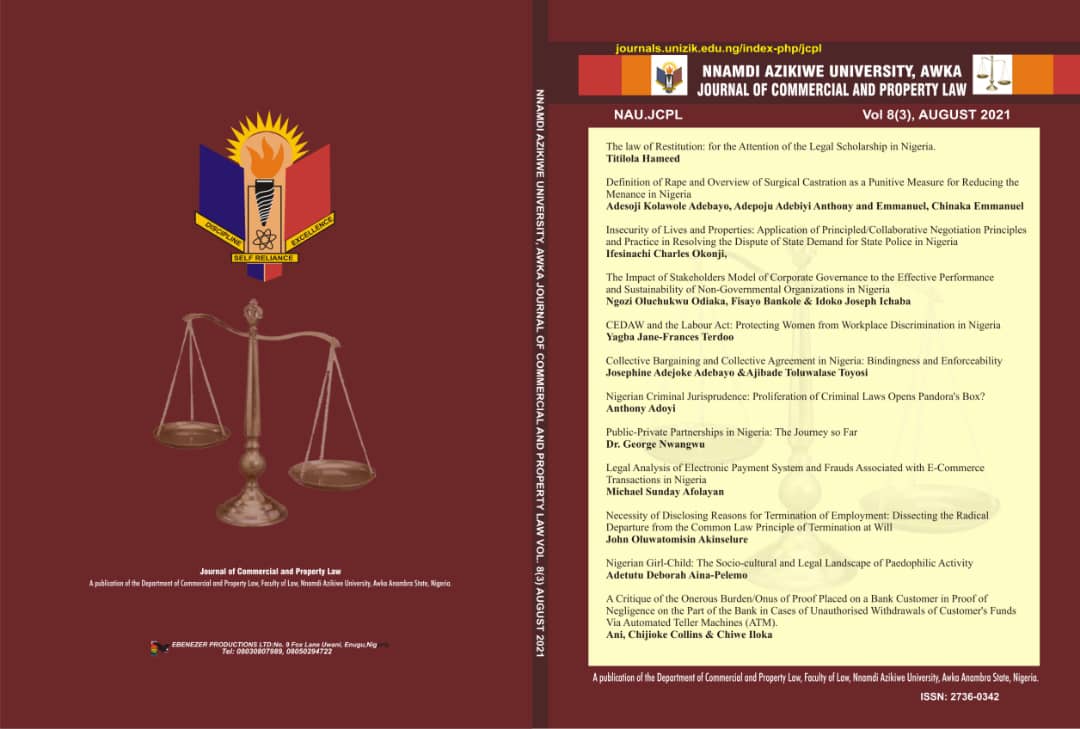 Downloads