The Legal Status of the Right to Development in Nigeria
Keywords:
Right to Development, Nigeria, Human Rights, ECOWAS
Abstract
The thrust for a Right to Development (RTD) was originally led by the new independence
countries of the south in the 1950s and 1960s who were demanding for a New International
Economic Order (NIEO) as the old was structured to favour only their former colonial masters.
This move did not pay off for these developing nations as there were much economic activities
and with little growth; and hunger, unemployment and poor health care system still ravaged the
society. Therefore, there was a global out cry for a change of perception of economic
development; stating that economic development should not be measured by economic growth
but by human growth. this paper through desk base research methodology comparatively
examines the legal status of RTD from international, African and Nigerian point of views and
legal regimes as well as appraise the role of the RTD as a tool for human development in Africa
in general and Nigeria in particular. The paper finds that RTD enjoys recognition at international,
Africa and Nigeria spheres and argues that man should be at the centre of development. The
paper further argues that the RTD is a human right capable of enforcement in Nigeria though
there is a shortage of litigation on it. The paper therefore recommends that in order for RTD to
be maximally exploited in Nigeria, she should diversify her economy, monitor and evaluate
RTD, introduce fiscal federalism and engage the citizenry in enlightenment program for
enforceability of the Peoples' Right to Development (PRTD).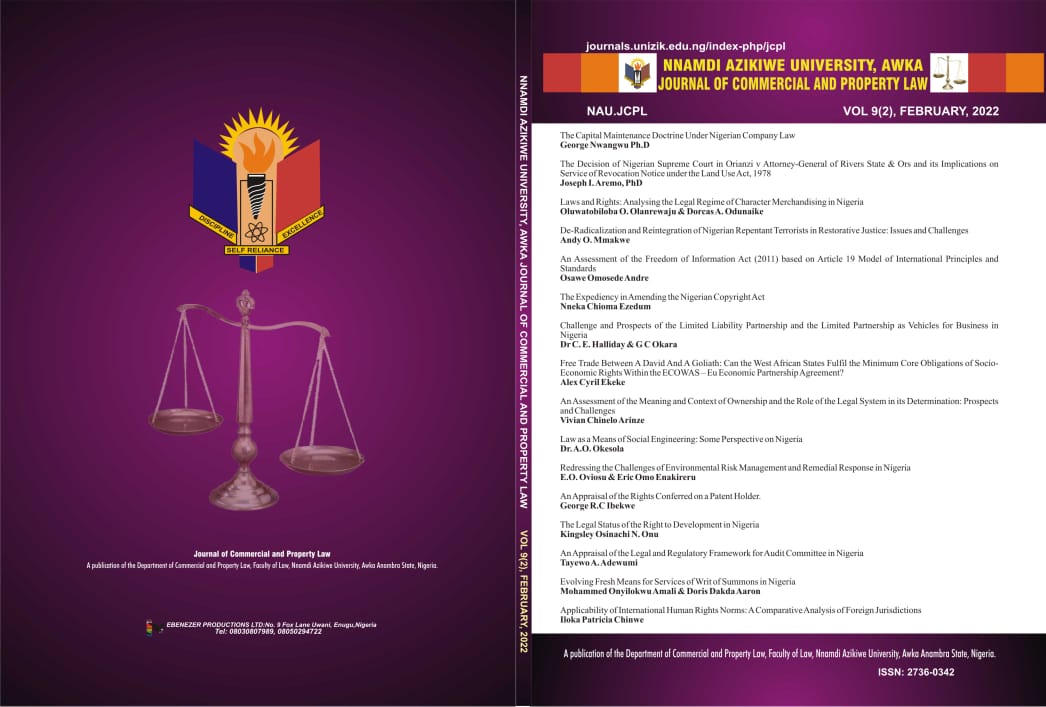 Downloads