THE EFFECT OF CAPITAL STRUCTURE AND AGENCY COST ON PROFITABILITY OF LISTED MANUFACTURING COMPANIES IN NIGERIA
Keywords:
agency theory, asset liquidity, capital structure, firm's profitability, Trade Off Theory
Abstract
The effect of capital structure and agency cost on the profitability of listed manufacturing companies was examined in this study. The study utilized casual research design, ten manufacturing companies in the consumer goods sector was purposively chosen for the study. The study covers period between 2015-2019. The analysis of the study data was analysed 3using descriptive statistics, correlation and panel regression analysis. The outcome of the first test study revealed that the t-statistics = -1.945, p-value (0.0018) which signifies that negative significant exist between long term debt and return on asset. Whereas, the second test shows that a positive significant connection exists between short term debt and return on asset with tstatistic =2.784, p-value (0.0054). The final hypothesis test conducted in the study revealed that asset liquidity ratio is significant and positively related to return on asset evidenced by t-statistic =0.686 and pvalue (0.0059). The conclusion drawn from this study is that capital structure and agency cost has significant connection with profitability of the selected Nigeria listed manufacturing companies. This study however recommends that management of the sampled organizations should explore the benefits of using more of debt financing so as to take advantage of tax benefits, they are also advised to reduce their agency cost by improving the level of their asset liquidity ratio.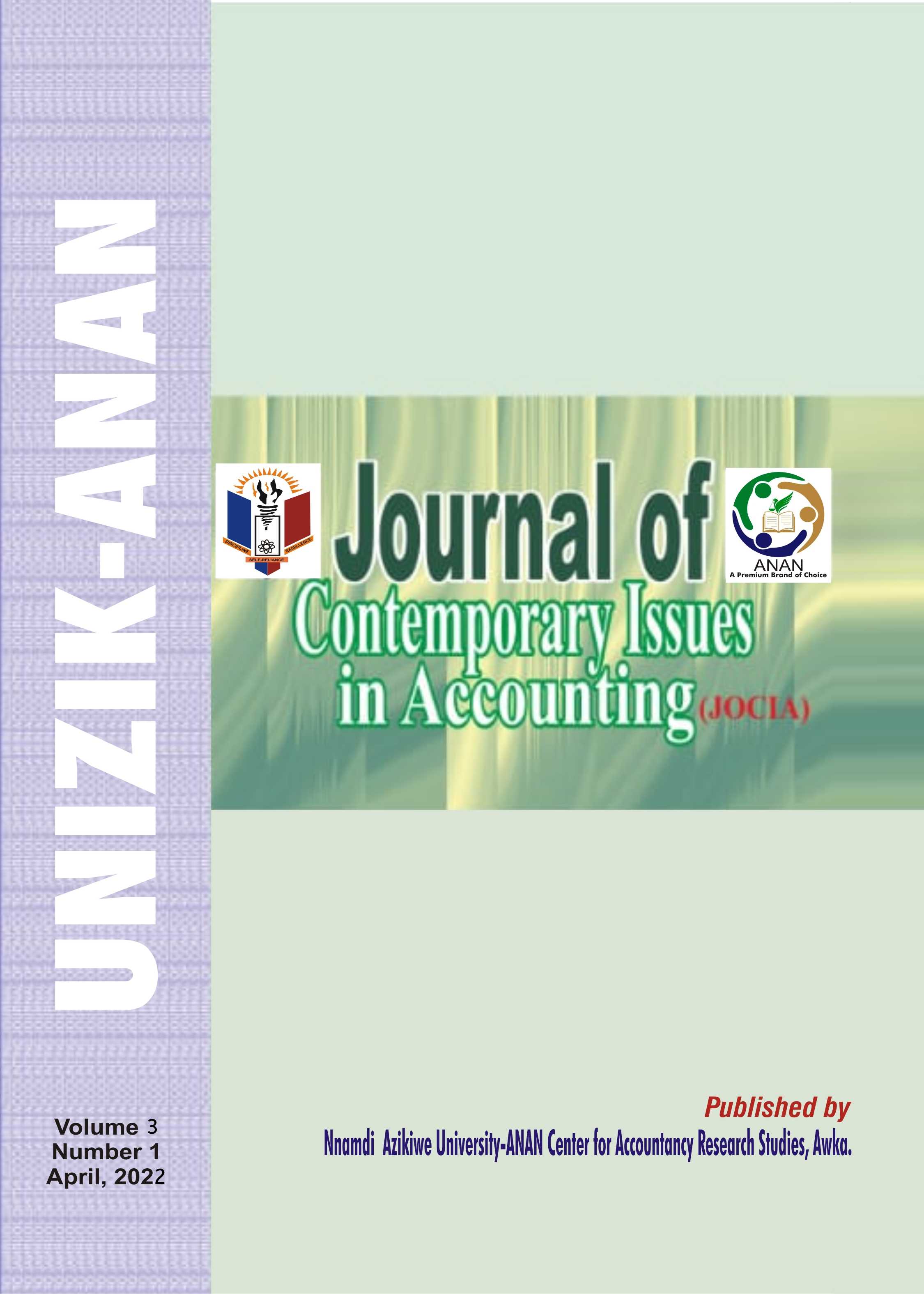 Downloads
How to Cite
OLOWOOKERE, J. K., ADEBAYO, A. O., ADENLE, O. E., OJELEYE, A. D., & ANYANWU, P. O. (2022). THE EFFECT OF CAPITAL STRUCTURE AND AGENCY COST ON PROFITABILITY OF LISTED MANUFACTURING COMPANIES IN NIGERIA. Journal of Contemporary Issues in Accounting, 3(1), 47–64. Retrieved from https://journals.unizik.edu.ng/index.php/jocia/article/view/1189