EFFECT OF FISCAL DEFICIT ON INFLATION AND SELECTED MACROECONOMIC FUNDAMENTALS OF NIGERIA: 1981-2020
Keywords:
Fiscal deficit, Inflation, Interest rate, Exchange rate, Economic growth
Abstract
This study examined the impact of fiscal policy on inflation in Nigeria, using Auto regressive distributed lag model (ARDL), for a period of 1981-2020. Secondary data were used in the study. The variables that were utilized include inflation rate (INF), as the dependent variable; and a set of independent variables; government deficit financing (GDF), interest rate (INT), exchange rate (EXR) and gross domestic product (GDP). Stationarity test was carried out using Augmented Dickey-Fuller Test (ADF). The result showed a mix of integration of order 1(0) and 1(1) which lends credence to the adoption of ARDL model. The cointegration test revealed the presence of long run relationship. As such, the result of the long-run ARDL cointegration revealed that GDF exert positive impact on INF. Specifically, a percent increase in government deficit (GDF) will lead to an increase of about 2.77 percent in the rate of inflation. The EXR, and INT also exert positive impact on INF in the long-run. Only GDP was found to exert negative impact on INF. In line with this finding, the study concluded that, fiscal deficit does not create inflation, but inflation causes the fiscal deficit, making it a one-way causation from inflation to the budget deficit. The study recommended that government should strike appropriate balance between recurrent expenditure and capital expenditure, that is, Fiscal deficit should not be geared towards recurrent expenditure to the detriment of capital expenditure which has the capacity to stimulate employment and reduce inflation.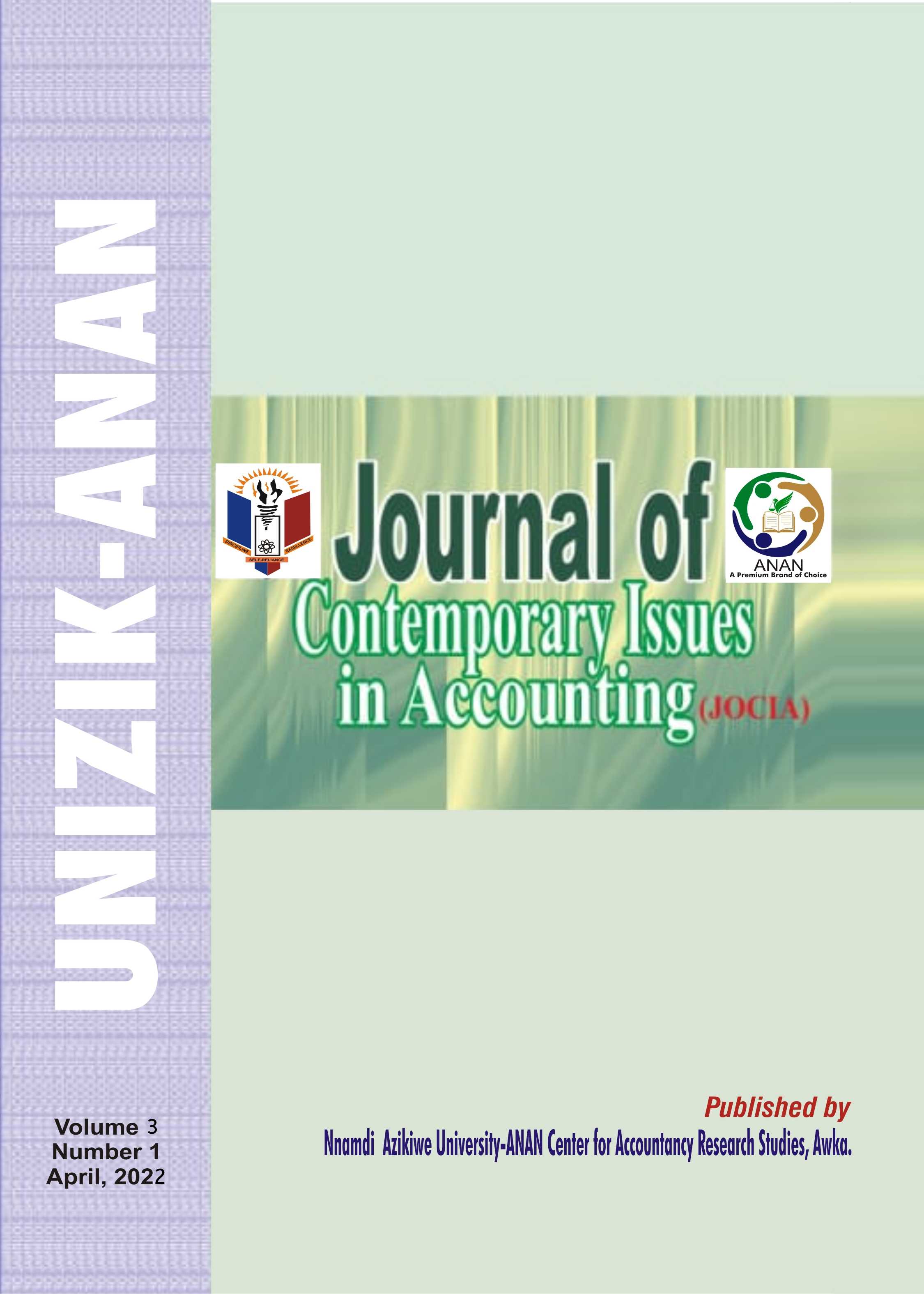 Downloads
How to Cite
Eche, N. A., Pam, B. J., Ifeanyi, A. A., & Hassan, P. A. (2022). EFFECT OF FISCAL DEFICIT ON INFLATION AND SELECTED MACROECONOMIC FUNDAMENTALS OF NIGERIA: 1981-2020. Journal of Contemporary Issues in Accounting, 3(1), 176–197. Retrieved from https://journals.unizik.edu.ng/index.php/jocia/article/view/1197