LESSONS AND POLICY IMPLICATIONS OF NIGERIA'S ECONOMIC RECESSION: 2016-2017
Keywords:
Economic recession, Oil revenue, Economic diversification, Recurrent expenditure, Policy implementation
Abstract
The paper considers and discusses Nigeria's economic recession as a market event because of its exogenous nature primarily driven by fall in global oil prices in 2016. This led to a fall in oil revenue and consequent reduction of total federally collected revenue within the period. This followed suit as the country was monolithic and highly dependent on oil revenue for the bulk of her revenue. Since the discovery of oil in the 70's, the revenue trajectory of the country has followed a similar pattern with oil price movements as successive governments stall in efforts for the economy's diversification. The lack of sustainable diversification of the economy stalled her recovery process during the period as cost of governance kept on rising. This caused a rise in the country's deficit as borrowings increased to meet financing of recurrent expenditure. The event is considered a recurring event as the COVID-19 pandemic which led to shut down of several sectors globally and in Nigeria, such as the aviation sector, etc. led to a fall in demand in oil globally and simultaneously decreased revenue in 2020. Despite policies instituted by present administration, growth and recovery has been slow which the author attributes to over dependence on oil and inconsistencies in policy implementation and recommends an expansion on the country's export base and three step pronged approach to reduce discontinuity.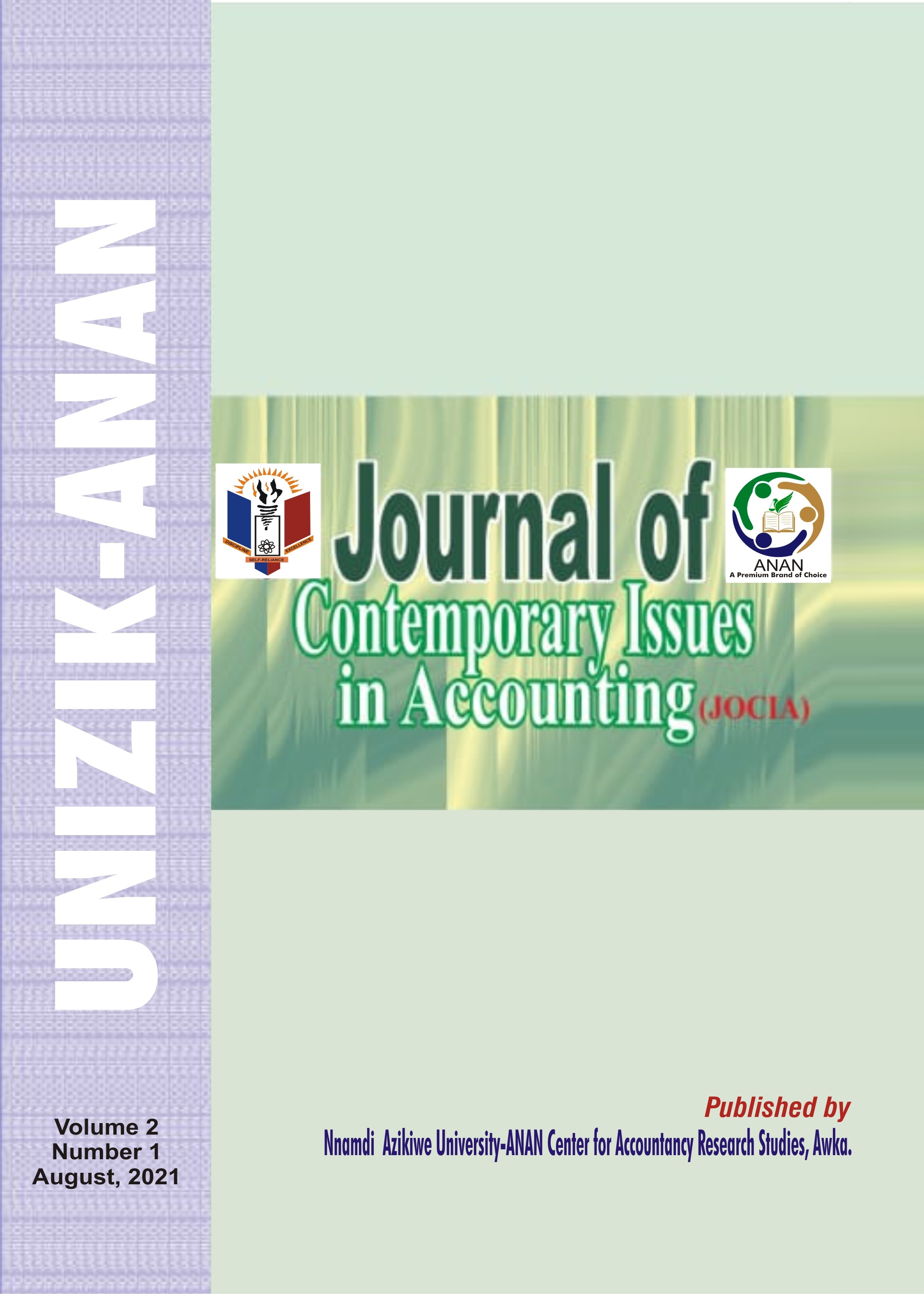 Downloads
How to Cite
Anachedo, C. K., Echekoba, F. N., Egbunike, F. C., & Ubesie, C. M. (2021). LESSONS AND POLICY IMPLICATIONS OF NIGERIA'S ECONOMIC RECESSION: 2016-2017. Journal of Contemporary Issues in Accounting, 2(1), 65–77. Retrieved from https://journals.unizik.edu.ng/jocia/article/view/933