INVESTORS' SENTIMENTS, MARKET DYNAMICS AND STOCK MARKET RETURNS IN NIGERIA
Keywords:
Investors' Sentiments, Real Exchange Rate, Real Interest Rate, Stock Market Returns
Abstract
This work studied the effects of investors' sentiments, real exchange rate and real interest rate on Nigeria's stock market returns 1985-2017. The study used secondary data from annual reports of Nigeria Stock Exchange. Regression analysis, unit roots and diagnostic test were used in the analysis. The Granger Causality test was applied to determine the direction of causality. The results from all our analysis show that investors' sentiment had a statistically positive significant relationship with stock market returns in Nigeria. Governments should support the stock exchange and securities commission with capital market policy guidelines and supports that would prevent extreme investors' sentiments that would lead to massive losses for retail and institutional investors. Investors' portfolio managers and other investing stakeholders should develop sentiment period market strategies and regularly review their investment sentiment biases in order to effectively manage investors' emotion biases. Policy makers such as Securities and Exchange Commission (SEC) should sensitize and enlighten investors on the negative consequences of psychology bias on the performance of the market in general and the performance of the investments in particular. The novelty of this research lies on the fact that it considered macroeconomic variables of real exchange rates and real interest rates on stock market returns as against the few empirical studies that focused only on investment sentiment.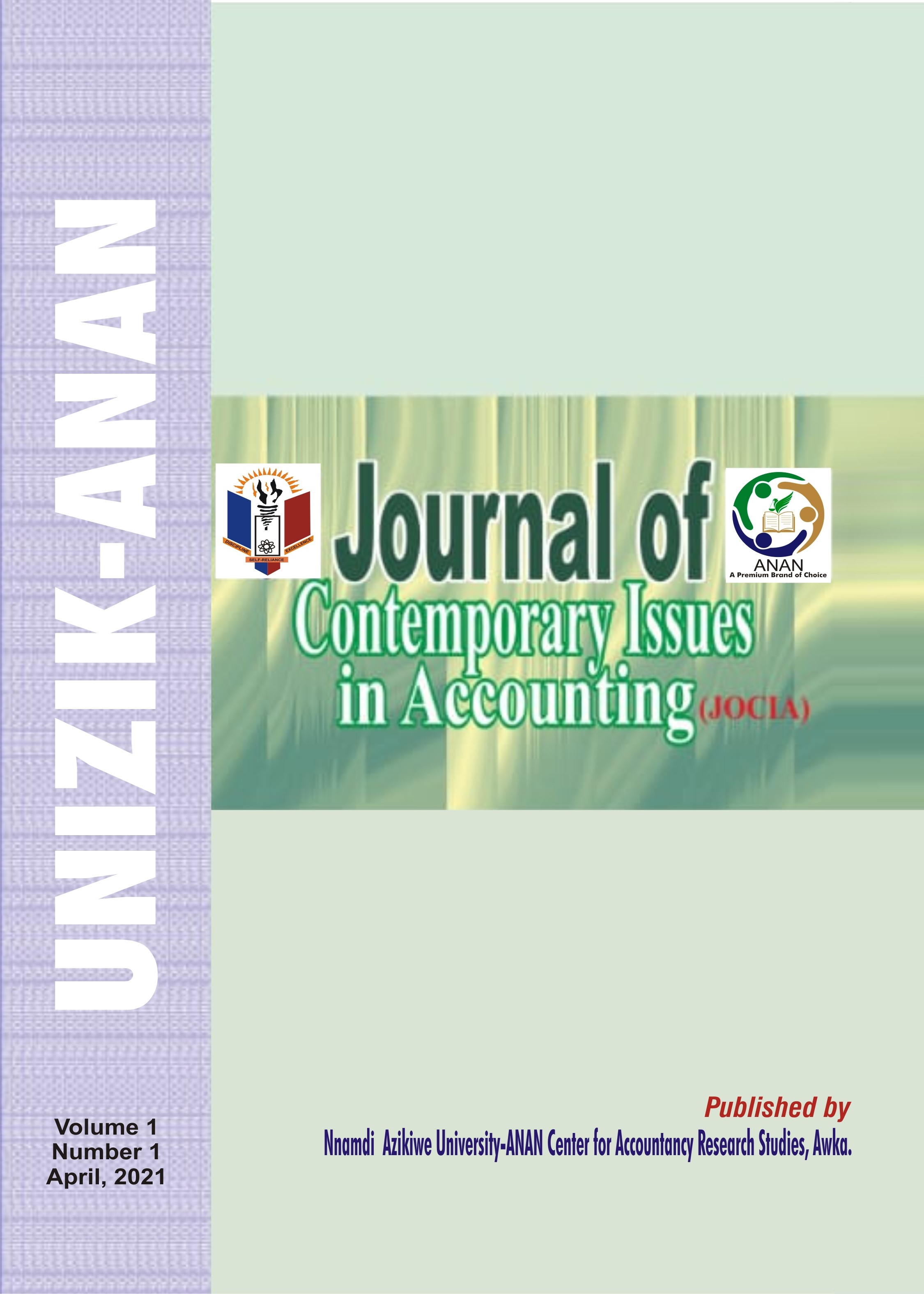 Downloads
How to Cite
Nnoje, A. I., Okonkwo, J. J., & Anachedo, C. K. (2021). INVESTORS' SENTIMENTS, MARKET DYNAMICS AND STOCK MARKET RETURNS IN NIGERIA. Journal of Contemporary Issues in Accounting, 1(1), 56–73. Retrieved from https://journals.unizik.edu.ng/jocia/article/view/906