COMPETENCY APPRAISAL OF LAW CATALOGUERS' JOB PERFORMANCE IN UNIVERSITIES IN SOUTHERN NIGERIA
Keywords:
Competency Appraisal, Job performance, Cataloguing Tools, Moys Classification Scheme, Library of Congress, Law Library
Abstract
This study was set out to investigate the competence of the law cataloguers in the use of cataloguing tools and resources for their job performance in university law libraries in Southern Nigeria. Descriptive survey research design was adopted for the study. A self-developed questionnaire was used to gather information on the competency level of the law cataloguers from the twenty-two universities studied. A total of sixty-six copies of the questionnaire were distributed while fifty-three copies were returned and used for the analysis. The results revealed that the law cataloguers have high competence in the use of Moys Classification Scheme and Thesaurus for Legal Materials and also in Library of Congress Subject Heading List. However, their competence in the use of the tools did not lead to high job performance. The study conclude that the law cataloguers' competence is doubtful, hence, the low performance. The study recommend that the universities should be committed to providing training for the law cataloguers in order to improve their competence and that experienced law cataloguers should be employed to handle the job of cataloguing and classification of law resources in Nigerian university law libraries.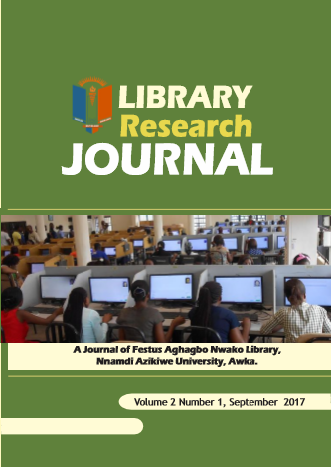 Downloads