APPRAISAL OF INFORMATION LITERACY IN FESTUS AGHAGBO NWAKO LIBRARY
Keywords:
Information Literacy Skills, Computer Literacy, Tool Literacy, Visual Literacy, FANL
Abstract
Satisfying the need of the information user in a university library is not an easy task. This is because all the teaching, learning and research going on in the university revolve around the library collection. It then becomes necessary that librarians in the present age should identify the competences a user requires to navigate the information world. Librarians should be proactive in developing strategies that will enhance proper utilization of information for the end user. This is very crucial because the quantum of information occasioned by information technology such as the Internet and World Wide Web (WWW) places the information user at a cross road. Where the librarian does not help, he will resort to self help. When he decides to help himself, he may bypass the library in
his quest for information. Therefore, the need to ensure that the quality of information provided to the user emanated from reliable sources, the library should provide the enabling academic environment that will equip information seekers with abilities needed to be able to filter the good from the bad. This is where information literacy comes to mind. Information literacy is the ability to recognize the extent and nature of information needs, locate, evaluate and effectively use the needed information. This paper discussed the practice of information literacy in Festus Aghagbo Nwako Library. It highlighted the challenges of the Department as well as strategies that can be adopted to move the Department forward.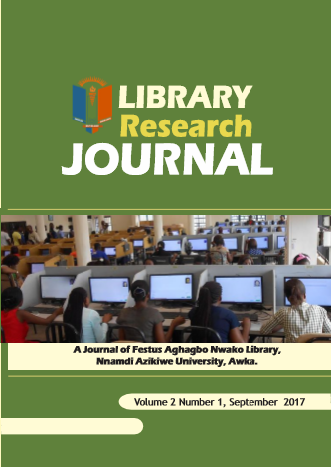 Downloads