ISSUES IN THE APPLICATION OF WEB 2.0 IN FESTUS AGHAGBO NWAKO LIBRARY
Keywords:
Festus Aghagbo Nwako Library, Web2.0 Tools, Digital Library, Manpower Developement, IT Infrastructure
Abstract
This paper sought to investigate the application of Web 2.0 in Festus Aghagbo Nwako Library. Core Web 2.0 tools discussed were Wiki, Blog, Instant messaging, Podcast and Rss. Mainly Festus Aghagbo Nwako Library apply Web 2.0 tools in the digital Section of the library for biometric verification and capturing of new students, accessing of digital collections in any location within the University, conducting and monitoring of General Studies examinations and post UME.
Problems militating against Web 2.0 application include shortage of professional manpower, lack of IT infrastructure, energy crisis and lack of skills needed for Web 2.0 application. Strategies for improvement include recruiting of professional librarians, provision of adequate infrastructure, provision of standby generator and training of librarians in basic and technological skills.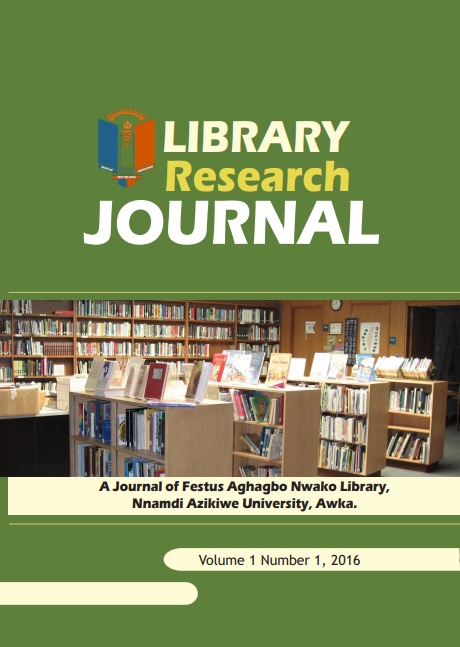 Downloads