Revenue and Income Analysis of Fresh pepper Marketing in Aba North Local Government, Abia State, Nigeria
Keywords:
Fresh pepper, Marketing, Revenue
Abstract
The study examined revenue and income analysis of fresh pepper marketing in Aba North local government area, Abia State, Nigeria. Specifically, it described the socioeconomic characteristics of the marketers, marking channel and volume of trade among the channels, profitability and economic efficiency of the marketers and constraints to pepper marketing in the study area. A multistage sampling procedure involving simple random sampling methods were used to select one hundred and twenty five marketers. Primary data were collected by means of structured questionnaire and were analyzed using descriptive statistics, enterprise budgeting, Sherpherd-Futrell technique and relative importance index. Finding from socioeconomic characteristics showed that majority of the marketers were within the age bracket of 30 and 49 implying that the marketers are young, energetic, flexible in accepting new ideas and taking risk and there is a female. The result of marketing channel revealed that third channel recorded the highest percentage of (64%). The result of profitability of fresh pepper marketing showed that out of the total cost of N628, 257.5 spent by the marketers, purchases constituted (89.39%) while the least expense was interest on loan (2.68%). The enterprise generated a net return on investment of 0.3266 and the implication of this is that the marketers return 33 kobo for every 1 Naira invested in the enterprise. Decay and Rotting (Perishability), price fluctuation, Sit-at-home palaver and Cough and Catarrh were perceived as the most serious constraints in the enterprise. Stakeholders should address the economic sabotage of sit-at-home palaver which is adversely affecting perishable produce were recommended among others.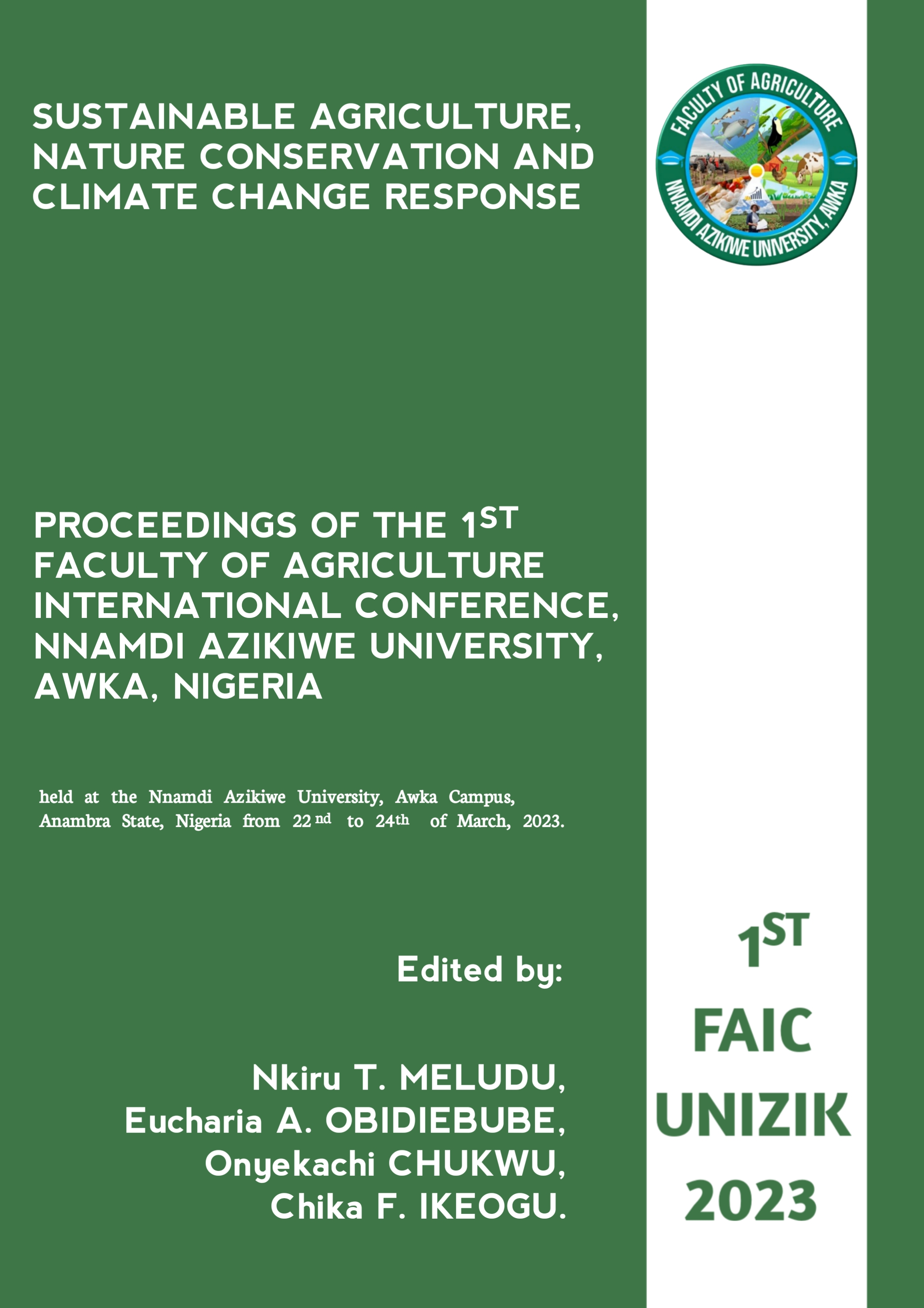 Downloads
How to Cite
Isibor, A., & Nkamigbo, D. (2023). Revenue and Income Analysis of Fresh pepper Marketing in Aba North Local Government, Abia State, Nigeria. E-Proceedings of the Faculty of Agriculture International Conference, 450–457. Retrieved from https://journals.unizik.edu.ng/faic/article/view/1976