Effects of Palm Oil Mill Effluent (POME) on Smallholder Oil Palm Farming Activities in Agbo Delta State, Nigeria
Keywords:
Effects, Farming Activities, Oil Palm, POME, Smallholder
Abstract
The growing policy concern on the environment cannot be significantly addressed without strict measures in the case of POME. POME is a highly environmental pollution produced by smallholder oil palm mill operators that affects farming activities and its environment. This study was done to analyze the effects of POME on smallholder oil palm farming activities in Agbo, Delta State with the objectives of examining the socioeconomic features of the farmers and determining the effects of POME on their farming activities. A purposive sampling method was employed to randomly select a sample size of 30 smallholder oil palm farmers and analyzed with descriptive statistics and regression model. The result showed that majority of them were in their middle / old age of 40 to 60 years with 66.7% married while 60% of them had family size of 6 and above and 83.7% of 11 years and above farming experiences. The regression result showed that POME had significant and negative effects on age, labour and plant nutrients at 0.05%, farming experience and farm size at 0.1% and household size at 0.01% with positive and significant effects on soil management practices at 0.1% and annual income at 0.05%. The study recommends a synergy between the farmers and biotechnological and allied research centres in connection with the Ministry of Environment through education/ training on the use of biotechnological tools, POME treatment technologies and intensified soil management practices in their operations to control, maintain and regulate their activities for a friendly and sustainable environment.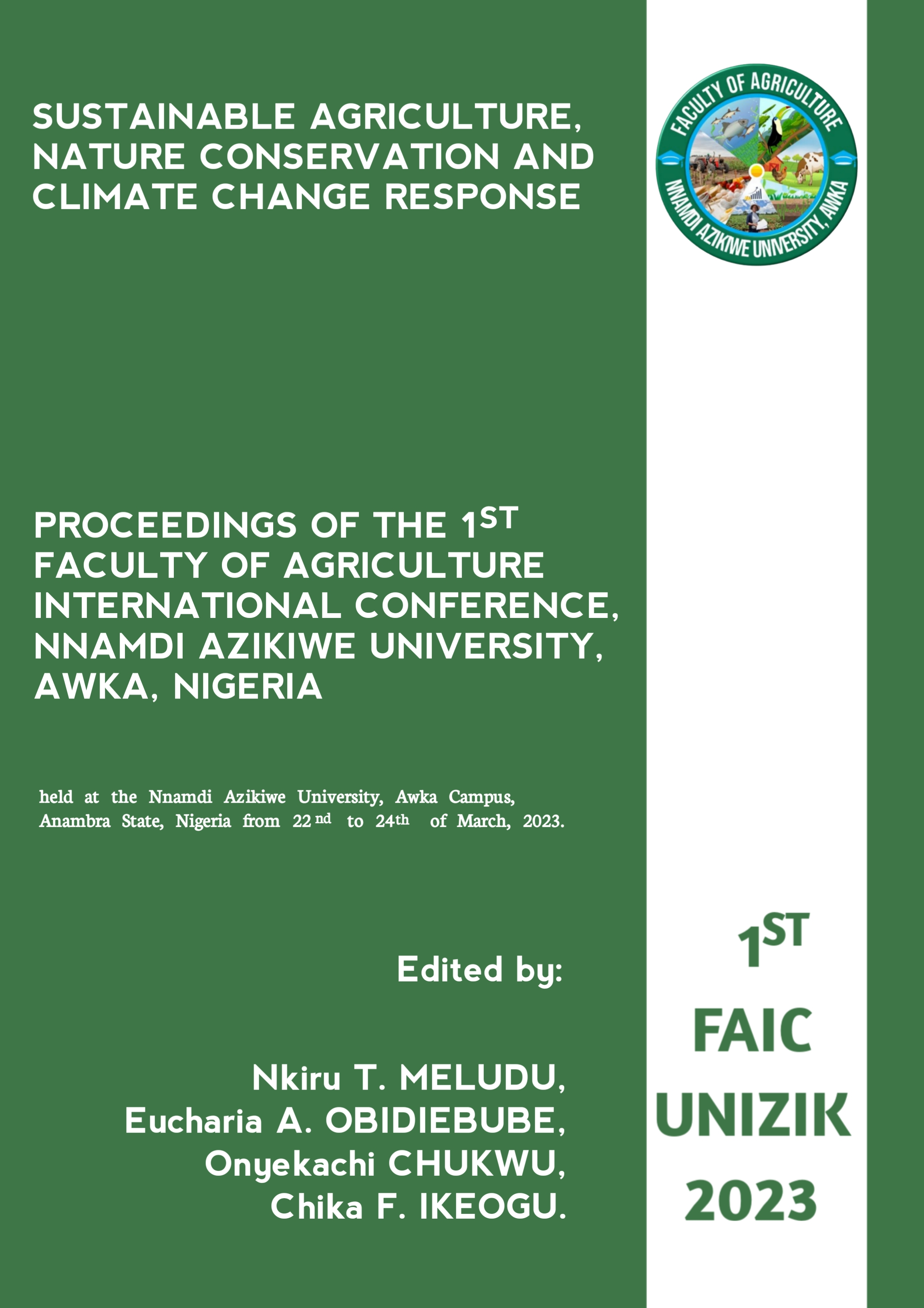 Downloads
How to Cite
Okere, R. A., Okoronkwo, T. O., Apeh, C. C., Unuabonah, E., & Okeke, C. O. (2023). Effects of Palm Oil Mill Effluent (POME) on Smallholder Oil Palm Farming Activities in Agbo Delta State, Nigeria. E-Proceedings of the Faculty of Agriculture International Conference, 8–12. Retrieved from https://journals.unizik.edu.ng/faic/article/view/1876