Productivity of Sweet Potato (Ipomoea batatas (L.) Lam.) Cultivars in Ibadan, Nigeria
Keywords:
Cultivars, Productivity, Sweet potato, Yield
Abstract
A field experiment was conducted to evaluate the productivity of 20 sweet potato (Ipomoea batatas (L.) Lam.) cultivars in Ibadan, Nigeria. The cultivars evaluated were obtained from the Department of Agronomy sweet potato germplasm multiplication field and were planted 30cm apart on the crest of ridges 3m long in a randomized block complete design (RCBD) with four replications. Observation and data were collected on number of leaves, main vines length, percentage survival, percentage ground cover, number of tubers per plant, fresh root and shoot yield. Result showed that there were significant differences (P < 0.05) among the cultivars evaluated. The number of leaves produced by the cultivars ranged from 109 to 205. Cultivar Eruwa-cream produced the highest number of leaves, while cv 'Barth' had the least at 12 WAP. Mean length of the main vine ranged from 84.69cm (cv TIS 86/0356) to 231.54cm (cv 440293). Percentage survival and percentage ground cover ranges from 80.0% (cv V005) to 100.0% (cv TIS 86/0356) and 25.3% (cv V003) to 79.0% (cv V084) at 10 WAP respectively. Maximum number of tubers (3.45/plant) was produced by cultivar 199034.1; this was significantly higher than the least (0.65/plant) which was obtained from cultivar V003. Cultivars V087 and Benue produced maximum fresh root yield (17.72 to 18.92 t/ha) while cultivars 440293, Benue, TIS 86/0356 and Eruwa-cream produced significant higher fresh shoot yield than all the other cultivars (12.13 to 16.42 t/ha). This study revealed the potentials of different cultivars for diverse use ranging from breeding, weed suppression, to consumption.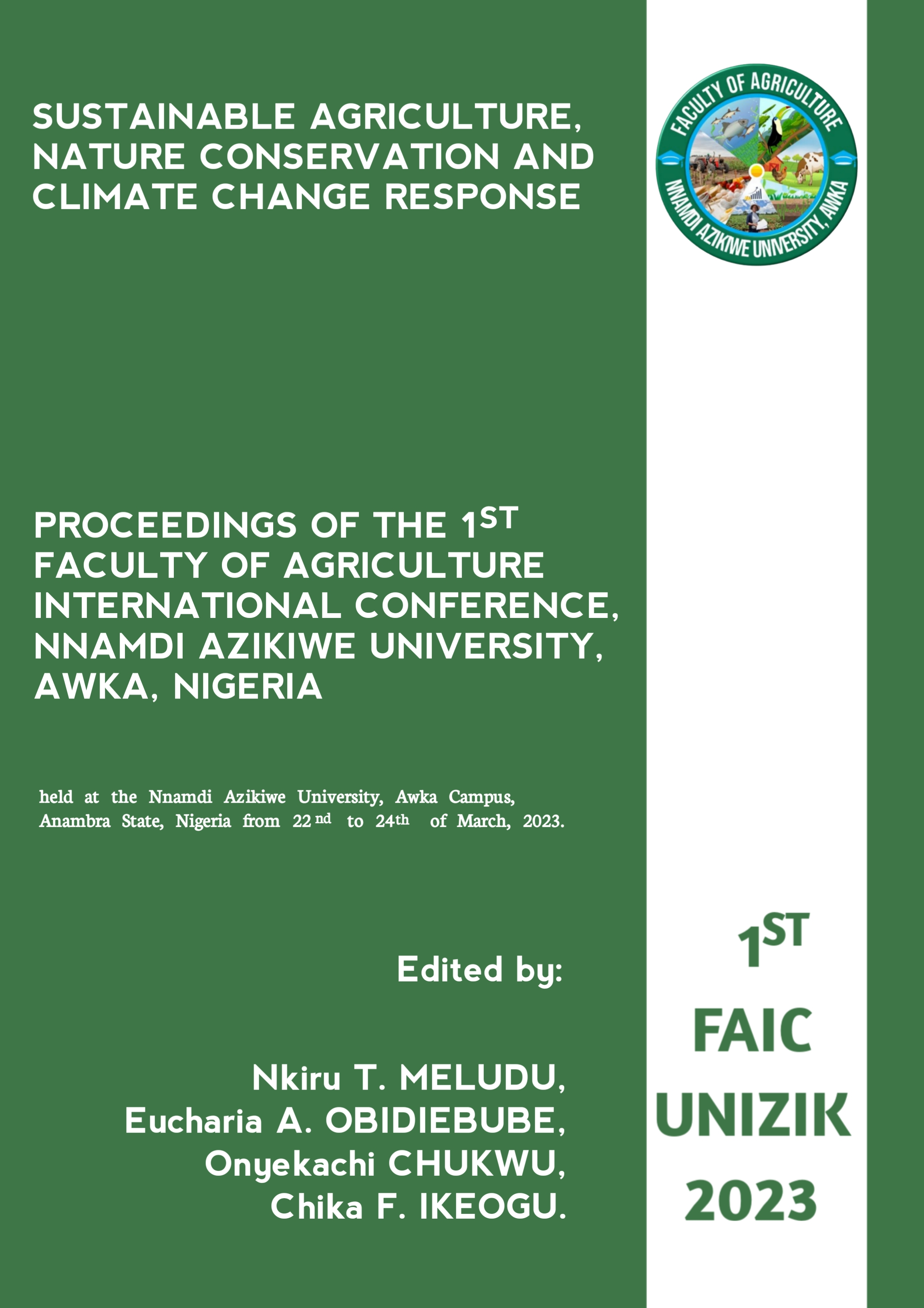 Downloads
How to Cite
Lawal, A. (2023). Productivity of Sweet Potato (Ipomoea batatas (L.) Lam.) Cultivars in Ibadan, Nigeria. E-Proceedings of the Faculty of Agriculture International Conference, 38–43. Retrieved from https://journals.unizik.edu.ng/faic/article/view/1886