Analysis of Sustainable Small Scale Catfish Farming in South Eastern Nigeria
Keywords:
Cost, Returns, Profitability, Regression
Abstract
Small scale Catfish farming involves the rearing of catfish under controlled conditions for socio-economic benefits. It is regarded as excellent aquaculture specie because it grows fast, tolerates extreme temperature, and has a good feed conversion rate. Engaging in small scale catfish production is a way of substantially improving the demand-supply gap currently experienced in the industry. The study examined the socio-economic characteristics of the small scale catfish farmers in the study area, analysed the cost and returns of farmers and examined the influence of socio-economic characteristics on Net-income. Primary data used for the study was collected using well-structured questionnaires which were administered to sampled catfish farmers. In analyzing the data, descriptive statistical tools (frequency counts, means and percentages), enterprise budgeting techniques (Gross margin, Net-farm income) and Multiple Regression Analysis were used to analyse the data. The Return on Investment was ₦1.51 and it implies that the catfish production enterprise generated 1.51 times more income than expenses incurred for the production. In addition, the result indicates a Gross ratio of 66% and a Profitability Index (PI) of 0.34 which means that for every naira earned as revenue, 0.34kobo was returned to the farmer as net income. Out of the nine independent variables included in the model, five; (age, educational attainment, experience, flock size and membership of farmer's society) were statistically significance while the rest were not significance. This result indicated that catfish production is a highly lucrative enterprise to venture into in the study area.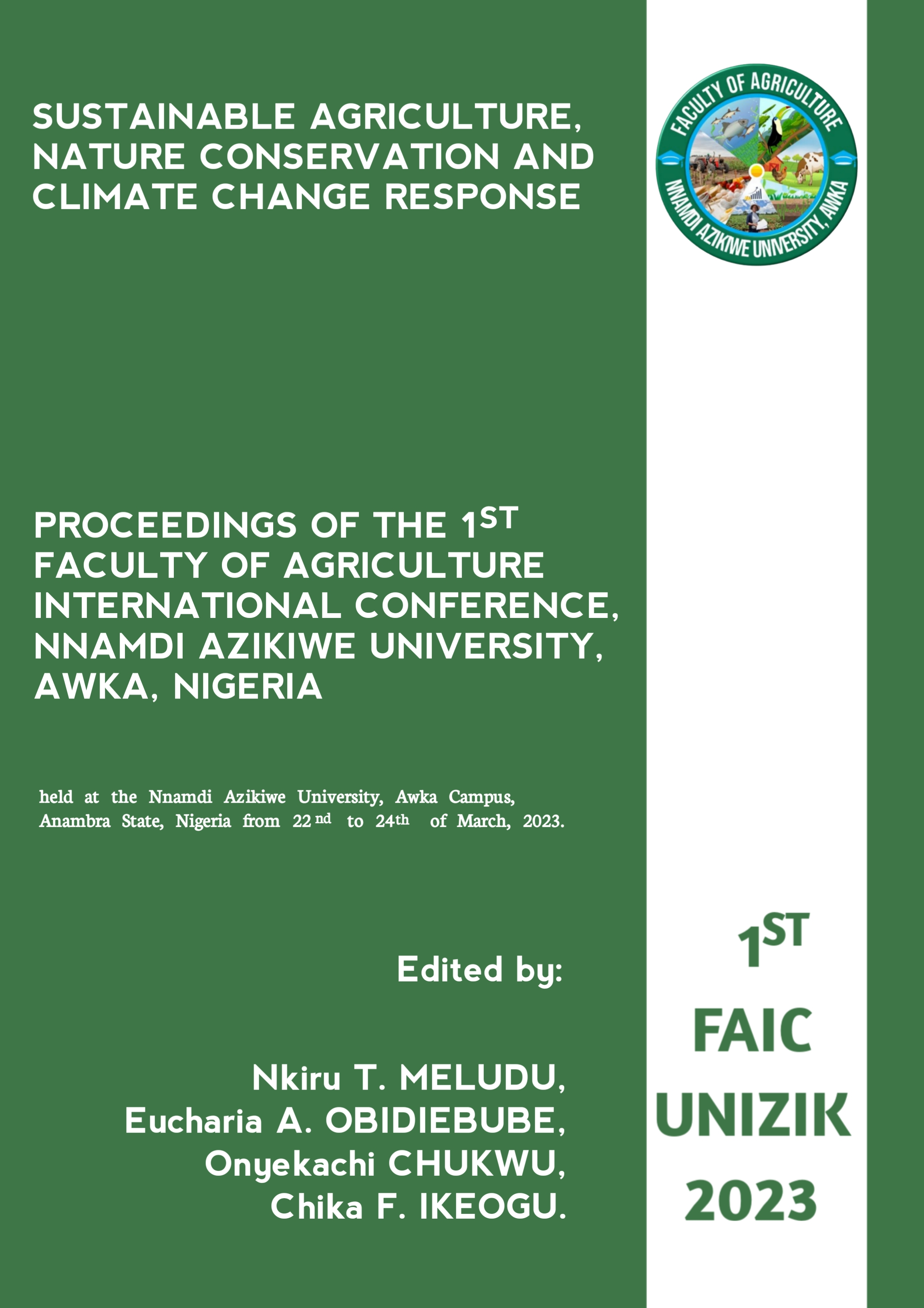 Downloads
How to Cite
Chiekezie, N. R., M. U., O., Nwankwo, E. C., Ositanwosu, C. O., & Obiekwe, N. (2023). Analysis of Sustainable Small Scale Catfish Farming in South Eastern Nigeria. E-Proceedings of the Faculty of Agriculture International Conference, 44–50. Retrieved from https://journals.unizik.edu.ng/faic/article/view/1887