Effect of Selected Organic Soil Amendments on Soil Physico-Chemical Properties, Growth and Yield Of yellow Pepper (Capsicum annum)
Keywords:
Soil chemical properties, Soil organic amendment, Soil physical properties, Yellow Pepper
Abstract
A field experiment to investigate the effects of different forms of organic manure on physico-chemical properties of clayey loam ultisol, growth and yield performance of yellow pepper plants, Capsicum annum (L.) var. was carried out at the Research Farm of the Agricultural and Bioresources Engineering, Faculty of Engineering, Nnamdi Azikiwe University Awka, Anambra State, Nigeria. The experiment was laid out in a Randomized Completely Block Design (RCBD) with three (3) replications. Treatments used were 10t/ha cassava peel biochar (CPBC), 10t/ha poultry manure (PM), 10t/ha cow dung (CD) and 5t/ha+5t/ha of their various combinations with one control. Morphological data were collected at two weeks interval after transplanting. Data collected were subjected to ANOVA. Significant mean differences were separated using LSD(0.05). At 12WAP, plants that received a combination of PM and CP had significantly higher heights, while the widest leaf area (116.6cm2) was obtained from those that had CD.Highest fruit weight per plant was recorded with cow dung (0.63kg), while cow dung + poultry had the highest number of fruit (170.3). The pH of the amended plot ranged from 4.73-4.99. The exchangeable bases (Ca2+ and Mg2+) were significantly higher in the plot amended with cassava peel biochar with values of 1.76cmol/kg and 1.44cmol/kg, compared to other amendments. There was also, significantly higher Organic Carbon values in the plots amended with Poultry manure. Based on the results, it could be deduced that the plot amended with cow dung + poultry manure significantly improved the soil fertility. Therefore, should be recommended for yellow pepper production in the study area.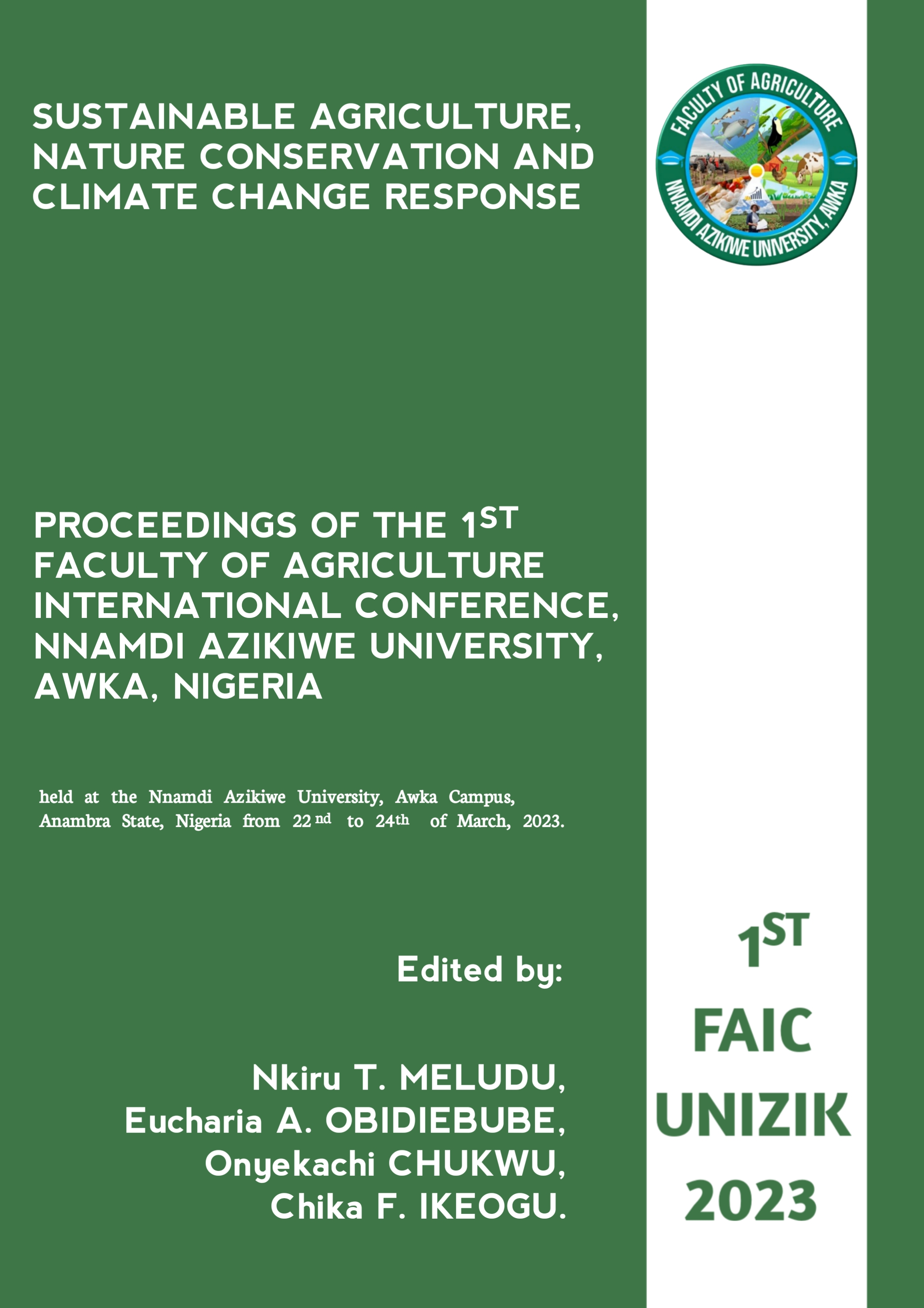 Downloads
How to Cite
C. R., I., Ngwu, O. E., Okore, I. K., Nwosu, E. A., Asiegbu, F. O., Orakwe, C. L., & Okolie, H. (2023). Effect of Selected Organic Soil Amendments on Soil Physico-Chemical Properties, Growth and Yield Of yellow Pepper (Capsicum annum). E-Proceedings of the Faculty of Agriculture International Conference, 51–54. Retrieved from https://journals.unizik.edu.ng/faic/article/view/1888