Adoption of Sustainable Farming Practices amidst Climate Change Incidence by Crop Farmers in Ebonyi State, Nigeria
Keywords:
Sustainable Agriculture, Climate Change, Crop Farmers, Yield and Output
Abstract
Sustainable agriculture amidst climate change incidence in Ebonyi State, Nigeria was examined. A multi-stage sampling was used to select 140 crop farmers who were
administered with questionnaires. Data collected were analysed using descriptive
statistics, logit model and the local average treatment model. Results shows that the crop farmers were married (72.1%), more of males (70.7%), relatively educated (Mean = 12) and were in their productive age (51) years. Crop rotation (94.3%), bush fallowing
(76.4%), shifting cultivation (98.6%), multiple cropping (100%), and erosion control measures (69.3%) were some of the sustainable agricultural practices adopted by the crop farmers in the State. About (94.3%) of the crop farmers adopted these practices against 6% that did not adopt. Age, sex, education, farm size, extension contacts, and farming experience were the major determinants of sustainable agricultural practices of the farmers. The adoption and use of sustainable farming practices increased land yield
and output by (910.03%) and (1211.02%) amidst climate change manifestations.
Farmers were recommended to adopt and practice sustainable farming practices to
improve crop yield, output and land productivity in the State. This will ensure increased food production and security in the State.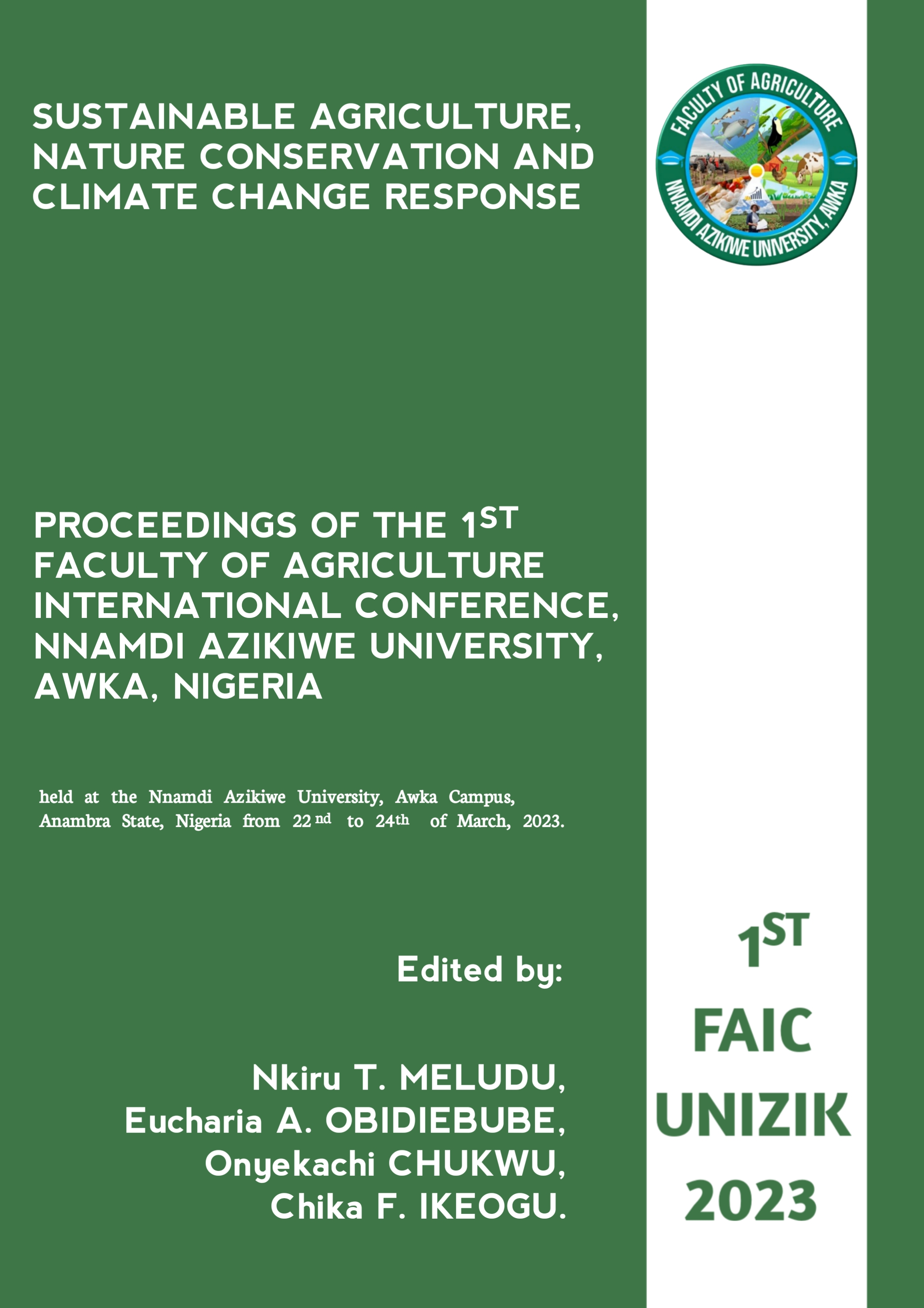 Downloads
How to Cite
Osuji, E. E., Igberi, C., Odor, A. H., Abana, P. C., Agunanne, U. T., & Iheanacho, R. A. (2023). Adoption of Sustainable Farming Practices amidst Climate Change Incidence by Crop Farmers in Ebonyi State, Nigeria. E-Proceedings of the Faculty of Agriculture International Conference, 73–79. Retrieved from https://journals.unizik.edu.ng/faic/article/view/1893