Effect of Planting Methods on the Growth and Yield of Carrot (Daucus carota L) in Humid Tropical Zone
Keywords:
Carrot, Treatment, Direct Sowing, Marketability, Plant biomass
Abstract
The experiment was conducted at the research farm of the Department of Crop Science and Horticulture, Nnamdi Azikiwe University, Awka, Nigeria; to study the effect of planting methods on the growth and yield of carrot (Daucus carota L). Two planting methods, direct sowing and transplanting were used as treatments for the experiment, which was laid out in a Randomized Complete Block Design (RCBD) and replicated four times. Data was collected on the growth, yield and root marketability. The collected parameters were statistically analyzed by analysis of variance table and means were separated using Least Significance Difference (LSD) at 5 percent level of significance with the GENSTAT 2014 Edition. The results showed no significant variation between the planting methods on the stem girth and leaf number at some dates, while transplanting significantly varied (P<0.05) from direct sowing at 4, 6, 8 and 10 WAP. Planting methods did not affect some parameters (plant biomass, root length, number of roots harvested, fresh weight of leaves, and fresh weight of roots), rather they were statistically similar. Transplanting influenced significantly the root diameter, while the harvest index showed statistical difference between the planting methods, with direct sowing varying significantly. Direct sowing also significantly influenced the root marketability parameters; root uniformity, marketable yield and total marketable root yield percetage. From the results presented, direct sowing had significant effect on root marketability, which is paramount in commercial carrot production. It is thereby recommended that for optimum carrot production and marketability, carrots should be directly sown.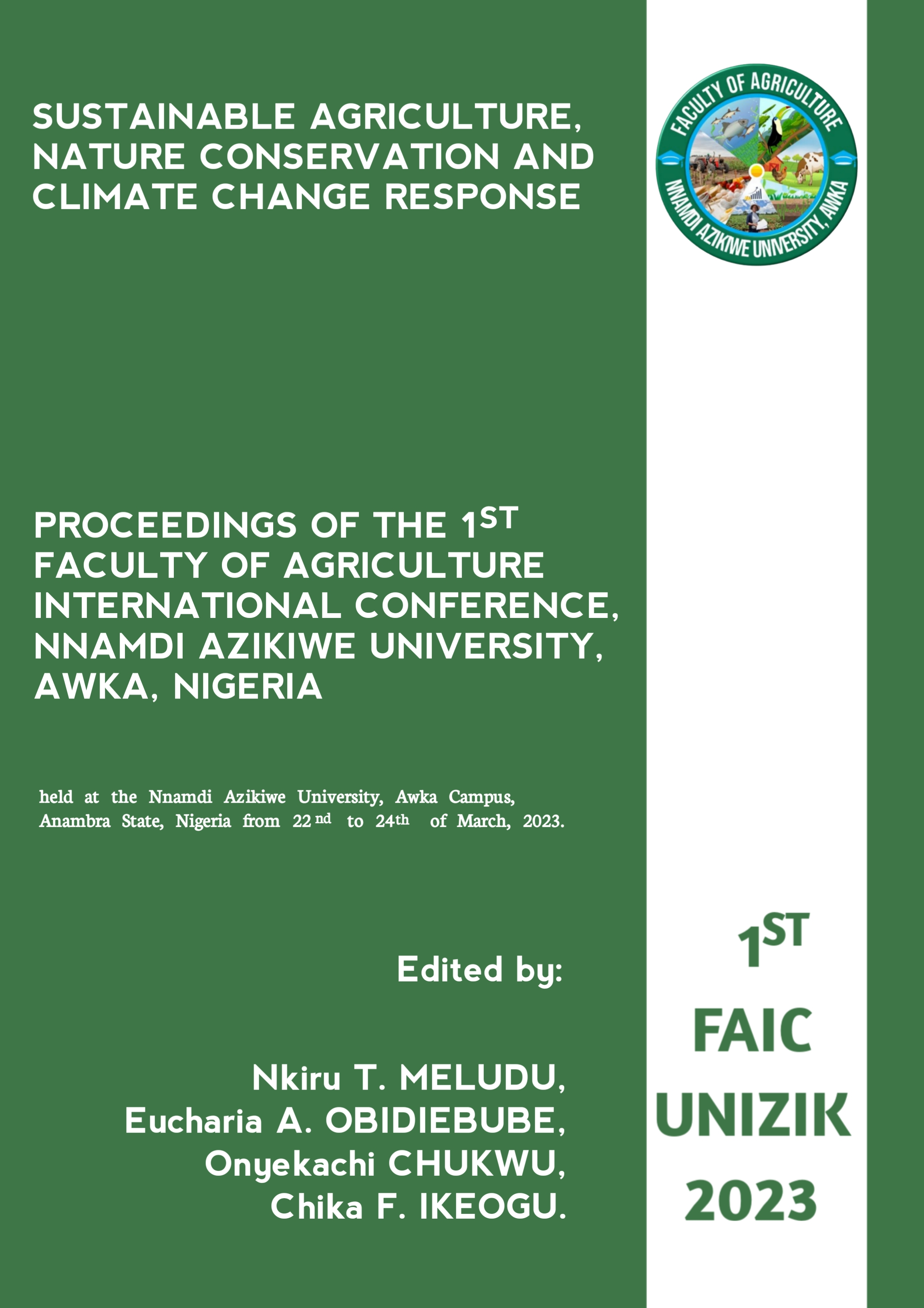 Downloads
How to Cite
Obdiebube, E. A., Okolie, H., Obasi, C., Ndukwe, O. O., Muojiama, S., Eche, P., & Umeh, O. A. (2023). Effect of Planting Methods on the Growth and Yield of Carrot (Daucus carota L) in Humid Tropical Zone. E-Proceedings of the Faculty of Agriculture International Conference, 84–90. Retrieved from https://journals.unizik.edu.ng/faic/article/view/1895